It's time for the most comfortable battle ever fought. That's right, I'm talking about another mattress comparison!
First up is the Helix Midnight, a hybrid mattress of pocketed coils sandwiched between layers of memory foam for a mixture of pressure relief and support. The Helix Midnight is part of a six-bed collection from Helix Sleep, an NYC-based company that launched in 2015. Helix Sleep also has a line of Luxe mattresses, as well as accessories such as pillows, sheets, bed bases, mattress toppers, and more.
We'll also be delving into the Casper Original, an all-foam bed with a zoned support system. Since launching in 2015, Casper has become one of the most popular bed-in-a-box brands on the market, adding bedding, bed frames, and a collection of sleep accessories to its mattress collection.
We've got a lot to cover, from the pros and cons of each bed to their respective constructions, pricing, what kind of sleepers they might be good for. So let's get started.
Helix vs Casper Video Review
Helix vs Casper: Which is Better for You?
The Helix Midnight is a hybrid mattress, meaning it uses a combination of foam and innerspring coils to provide comfort and support. The materials are fairly responsive, which makes for an "on-top-of-the-bed" feel.
The Casper has three foam layers that build a similar level of firmness as the Helix mattress, but with a little more contouring and sinkage. To help you decide which bed is best for you, I've kicked the review off with a few recommendations on who should buy which mattress. For even more detail about these two beds, be sure to check out our full Helix Midnight mattress review and our full Casper mattress review.
It's important to know that sleepers come in all shapes, sizes, body types, and sleeping positions, and that different mattresses work for different people. In this comparison I'll break it all down to help you decide if the Helix or Casper mattress is the best fit for you.
Who Should Buy Helix
Side sleepers should like the pressure-relieving Helix mattress.
Combination sleepers should really enjoy the responsive yet cushioning feel of this bed.
Anyone who sleeps with a partner or pet should appreciate the Helix's great motion-isolating capabilities. You won't feel overly disturbed by a restless partner on this bed.
Who Should Buy Casper
Back sleepers should like the balance of pressure relief and support the Casper offers.
Combination sleepers might also like the Casper. Like the Helix, it's a responsive mattress.
Those struggling with shoulder or back pain could really benefit from the Casper's zoned support system, which offers extra pressure relief at the shoulders and extra support at the lower back.
Helix Midnight vs Casper: Similarities and Differences
Despite the differences in construction, there are a lot of similarities between these two beds, mostly in what kind of sleepers they might appeal to and their cooling properties. And of course, there are a handful of differences that are worth noting, too. Let's lay it all out.
Main Similarities
Both beds are medium-firm, though the Casper scored a little bit higher on the mattress firmness scale.
Both beds will likely appeal to back sleepers and combination sleepers.
Although they use different materials and types of foam, the beds have a similar level of breathability and should sleep fairly cool.
Neither bed is the most ideal option for stomach sleepers. These folks should check out our best mattresses for stomach sleepers to find a better fit.
Main Differences
Because the Casper is a little firmer, it likely won't be as good a fit for side sleepers as the Helix Midnight.
Although the Casper is a decent option for couples and has enough motion isolation to prevent you from being totally disrupted by your partner, you're still likely to feel them moving around a little bit. With that in mind, the Helix Midnight is probably the better bed for anyone who sleeps with another person or a pet.
The Casper's zoned support system should be especially appealing to anyone looking for pain relief.
Helix and Casper Mattress Feel Comparison
Next, we'll go into heavy detail about how each of these mattresses feel. This depends on several factors, including firmness, motion transfer, and edge support.

Helix
The Helix Midnight scored a 6 on the mattress firmness scale, giving it a firmness level of Medium Firm. There's a bouncy feeling to the bed that's supportive without putting pressure on the joints. This "on-top-of-the-bed" feel should be a good fit for back sleepers and combination sleepers who need to switch positions with ease.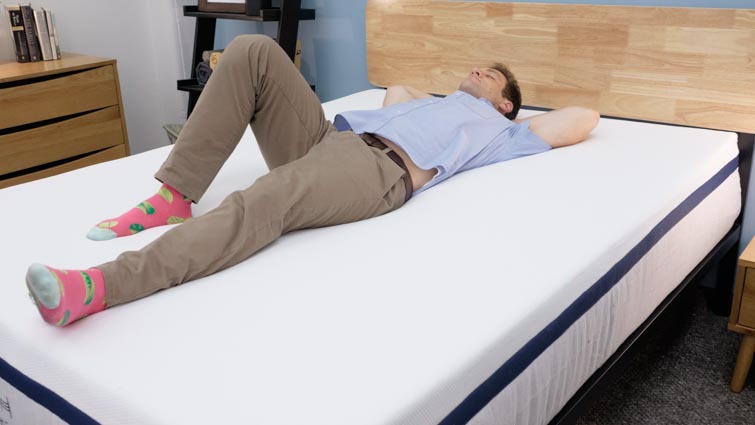 The bed also performed well when it came to isolating motion, so if you sleep with a partner who moves around a lot at night, you're unlikely to feel it. This, combined with strong edge support, makes the Helix Midnight an ideal candidate for couples.
Casper
The Casper is also a medium-firm mattress with an "on-top-of-the-bed feel," although it has a slightly higher firmness score of 7 out of 10. So sleepers lighter than me might find that the Casper is a firm mattress. Despite it feeling a little firmer than the Helix Midnight, its all-foam design creates a soft, contouring hug around the shoulders and back. In fact, the mattress was specifically designed to help sleepers keep a neutral spinal alignment.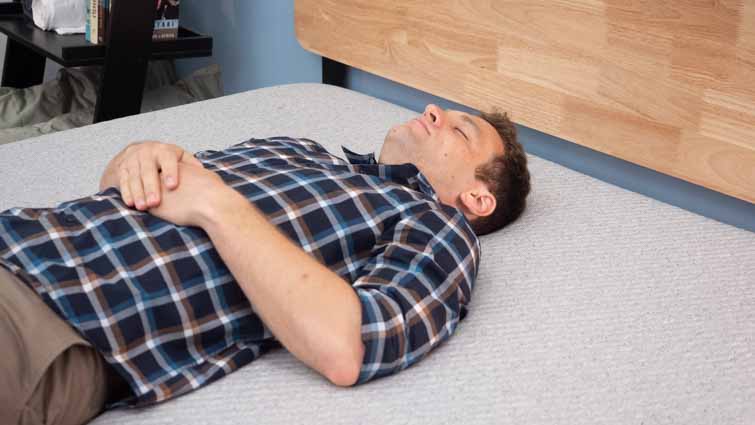 The Casper was fairly decent at isolating motion as long as your partner doesn't move around too much at night. If your loved one is especially restless, you might want to look for a different mattress brand.
Comparing What it's Like to Sleep on the Helix and the Casper
It bears repeating: these mattresses might feel different for different people depending on body weight, sleeping position, and other factors. But here's how I think each might feel for specific types of sleepers.
Helix
Back — When testing out the Helix Midnight, there was little pressure and a lot of support on the back, making it a strong choice for back sleepers.
Side — It's also likely a good option for side sleepers, as it doesn't put too much pressure on the shoulders, hips, or other sensitive joints.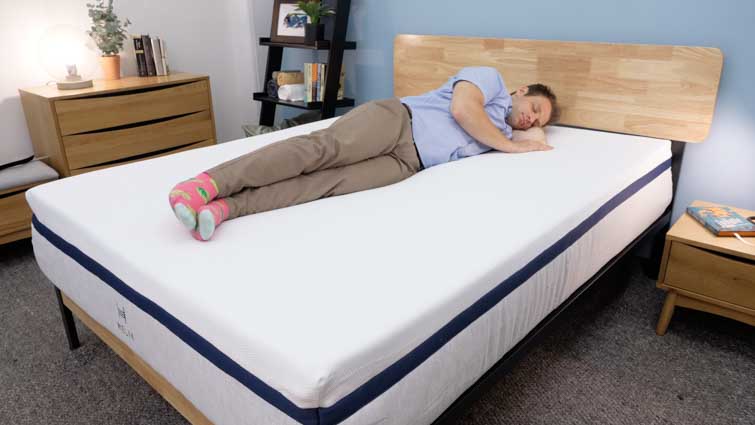 Stomach — Stomach sleepers often need a much firmer mattress for maximum spinal support. The medium-firmness of the Helix Midnight probably isn't the right fit.
Body Weight — Heavier people (over about 250 lbs) will likely find the Helix Midnight softer than I did. Personally, I don't think they'll find this mattress quite supportive enough. I'd recommend they opt for the Helix Plus, which was designed specifically for heavier people.
Casper
Back — The Casper Original is a fantastic option for back sleepers, which is no surprise given that its various foams were designed for zoned support and the overall bed is meant to promote a neutral alignment of the spine.
Side — Side sleepers might need a slightly softer mattress that offers more sinkage at the hips and shoulders.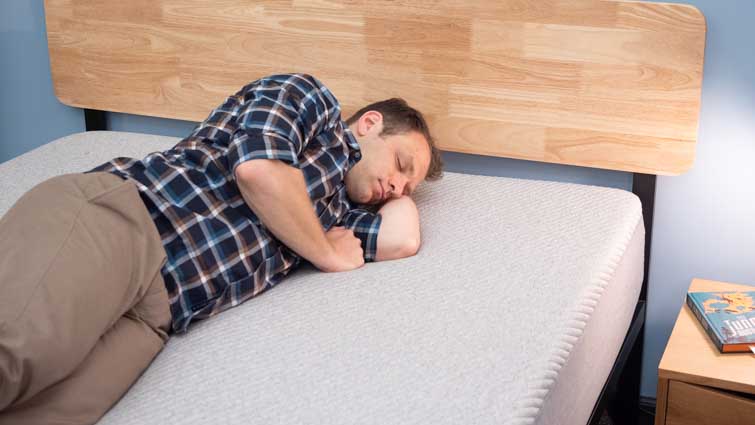 Stomach — As with the Helix Midnight, stomach sleepers will probably need something a lot firmer.
Body Weight — The Casper will also feel softer to heavier people. This all-foam mattress likely won't offer them the support they need. I'd recommend they opt for one of our best mattresses for heavy people instead.
Comparing Helix and Casper Mattress Prices
Pricing is always going to be a factor when choosing any new bed. In the case of these two mattresses, the Helix Midnight is more expensive than the Casper, although not by much. See the pricing chart below for specifics, and be sure to check out our Helix mattress coupon codes and our Casper mattress coupon codes for additional savings.
Prices listed are before discount or offer on each size.
| Size | Casper | Helix |
| --- | --- | --- |
| Twin | $595 | $699 |
| Twin XL | $695 | $799 |
| Full | $995 | $949 |
| Queen | $1,095 | $1,099 |
| King | $1,295 | $1,449 |
| California King | $1,295 | $1,449 |
Comparing Helix and Casper Mattress Materials
Let's get scientific and break down exactly what's in each of these beds. The design and materials are quite different.
Helix
Cover – The cover of the Helix Midnight is made of a light, stretchy material that promotes airflow and has a lot of breathability. This helps the bed sleep cool. The heathered gray color is also pleasant to look at.
Comfort Layer – Now we're onto a comfort layer of Memory Plus Foam that's supportive without being so thick that you sink into the bed. It offers just enough contouring to provide a little bit of pressure relief.
Transition Layer – Next comes a transition layer of high-density poly foam, adding some cushioning between the top layer and the coils below.
Support Layer – With the support layer, you get an expanse of individually wrapped coils that add to the bounciness of the bed.
Base Layer – Finally, you get a layer of DuraDense foam that offers additional durability to keep the bed from sagging.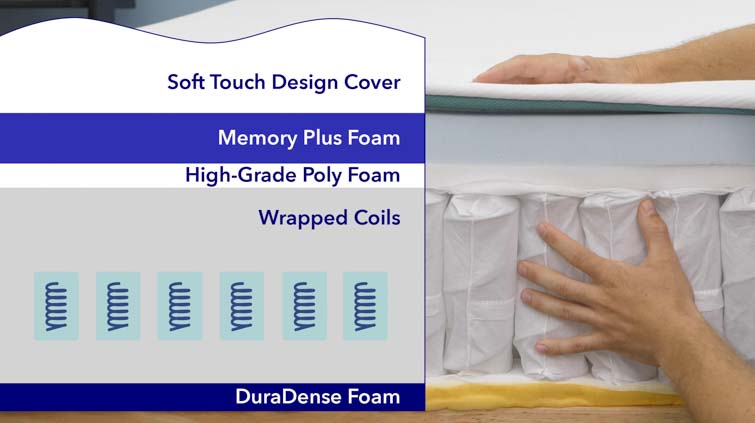 Casper
Cover – A straightforward polyester blend, the cover of the Casper Original has a soft and stretchy feel.
Comfort Layer – The Casper's top layer is made of an aerated foam that has a slow response to pressure, giving you just a little bit of sinkage for pressure relief at the shoulders and hips. While this effect can lead to overheating in other beds, the tiny aerations on this layer's surface work to keep the bed (and the sleeper) cool.
Transition Layer – This is where the zoned support comes in. Essentially, the transition layer has been divided into three sections that each have a different level of firmness targeted toward a different body part. The softer foam at the shoulders offers pressure relief while the firmer foam at the hips has a slight lift. When working in tandem, the foams create a balanced effect that aims to neutrally align the spine.
Base Layer – Last but not least, there's a base of high-density poly foam that gives shape and stability to the entire structure.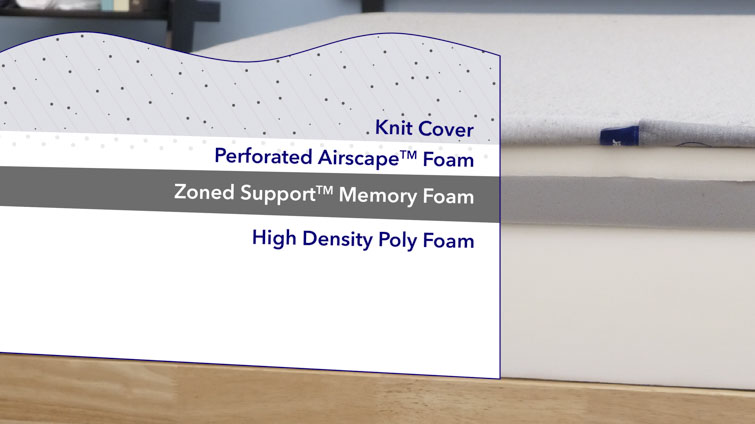 Helix vs Casper: Best Qualities
To wrap it all up, let's give a quick summary of each bed.
The hybrid structure of the Helix Midnight should appeal to a variety of sleepers, including back sleepers, side sleepers, combination sleepers, and anyone who shares the bed with a partner or pet. There's also a nice give and take between the mattress' pressure relief and support.
The all-foam design of the Casper has its own benefits. It should also appeal to back sleepers and combination sleepers, with specifically targeted support working to relieve pain and keep the spine in a neutral alignment. There's a little sinkage to provide some contouring, but not too much.
Helix Best Features
One of the Midnight's best features is its versatility. Its hybrid structure might make it a good fit for back sleepers, side sleepers, and combination sleepers alike.
The Helix also features great motion isolation and edge support. This bed is probably the better option for couples.
The Helix also offers great temperature regulation. This bed sleeps nice and cool.
Casper Best Features
My favorite thing about the Casper is its zoned support. While both beds will likely be a good match for back sleepers, the Casper goes above and beyond with the different types of foam in the transition layer.
The aerated, open-cell foam in the Casper is a great perk. Yes, both beds sleep cool. But the Casper's cooling tech might seal the deal for anyone who considers temperature regulation a top priority.
The Casper's firmness level, combined with its zoned support system, makes it a great mattress for sleepers who struggle with back pain.
Comparing Company Policies
Helix Policies
Trial Period — 100-night sleep trial
Shipping — Free
Mattress Warranty — 10-year warranty
Casper Policies
Trial Period — 100-night sleep trial
Shipping — Free
Mattress Warranty — 10-year warranty
Comparing Helix and Casper Customer Service
Let's take a moment to look at each brand's customer service team. I'll give them a score of Stellar, Great, Satisfactory, or Poor based on my interaction with each team.
Helix Sleepopolis Customer Service Rating
Satisfactory: Helix didn't have a customer service number I could call in order to get in touch with a live person. That being said, their FAQ and automated help center were very informative. I also used their contact form to ask about my issue and got a response within a couple of hours.
Casper Sleepopolis Customer Service Rating
Great: Casper's customer service number was clearly displayed on their website, and even though I reached out to the company outside of business hours, I was able to solve my issue through their automated help system. That being said, it would have been nice to have a live chat option.
Comparing Other Models from Helix and Casper
It's always a good idea to compare a bed you're considering to a few other models from the same mattress company. Take a look below to learn more about a few other Casper and Helix mattresses.
Helix Sunset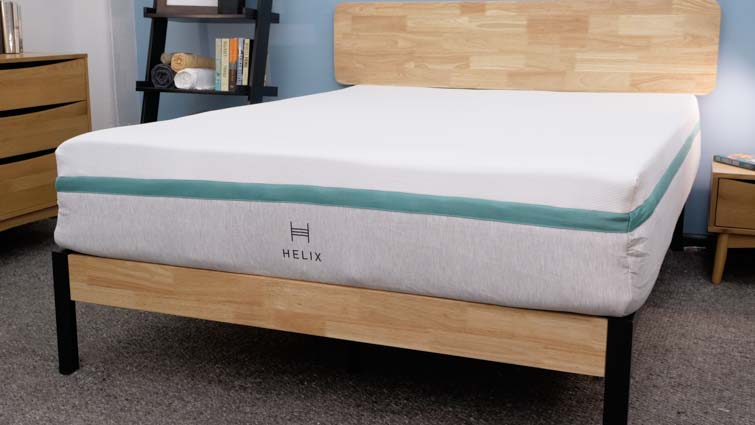 Another one of Helix's hybrid mattresses, the Helix Sunset has a slightly softer firmness score of 5.5, making it ideal for side sleepers, who need extra cushioning around their pressure points..
Like the Helix Midnight, this bed sleeps cool.
Like the Midnight, the Sunset is a responsive mattress.
Click here to read the full Helix Sunset mattress review.
Helix Dawn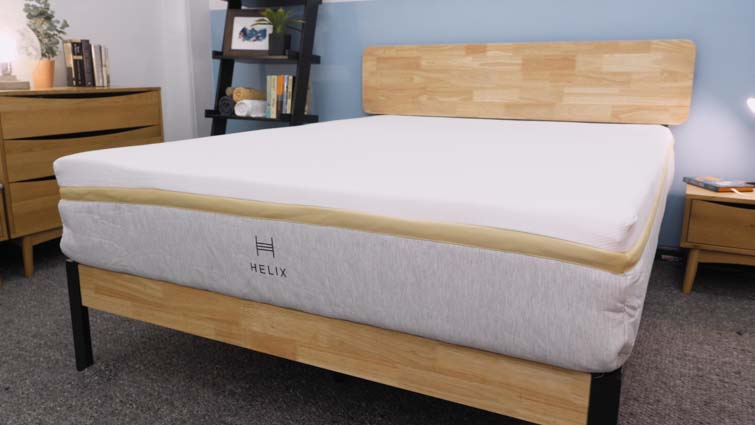 Whereas the Helix Midnight has a top layer of Memory Plus foam, the Dawn is made of Dynamic Foam. The Dynamic Foam is partly latex, resulting in even more bounciness and a firmness score of 7.5.
The extra firmness makes it a good fit for stomach sleepers.
The Helix Dawn and Helix Midnight are the same price.
Click here to read the full Helix Dawn mattress review.
Casper Hybrid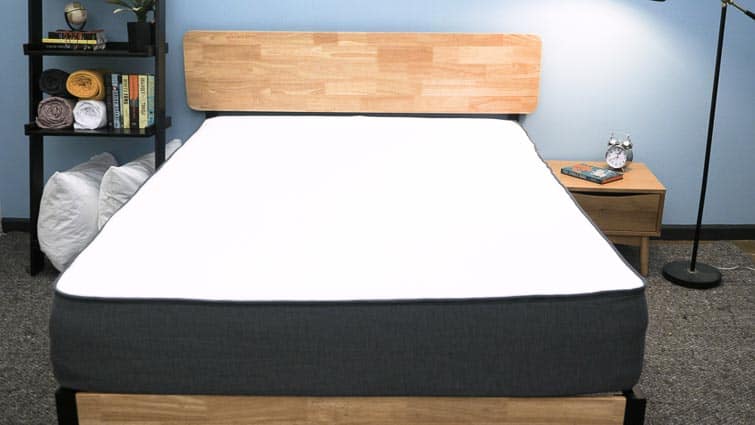 The Casper Hybrid feels similar to the Casper original, but includes a layer of pocketed coils for a bouncier feel.
The Casper Hybrid should appeal to back and combo sleepers.
The Hybrid is more expensive than the original casper.
Click here to read the full Casper Hybrid mattress review.
Casper Wave Hybrid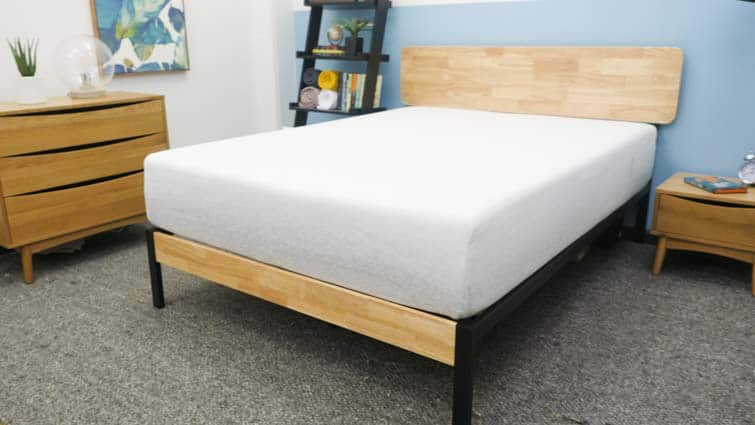 Casper's Wave hybrid bed is described as the brand's luxury mattress.
Some of its cushy extra features include a top layer of Airscape foam with cooling gel and an extra layer of Zoned Support poly foam with gel foams. This bed is extra breathable.
It scores a 6 on the firmness scale, striking a balance between pressure relief and extra support. It should appeal to back sleepers, side sleepers, and combination sleepers—pretty much everyone except stomach sleepers.
Click here to read the full Casper Wave Hybrid mattress review.
Other Common Helix and Casper Comparisons
Interested in learning more about these brands? Check out the links below to find some more Casper and Helix mattress comparisons.
Helix
Casper
Our Review Process
Our Sleepopolis reviewers personally test each mattress. We start by unboxing the mattress to figure out how difficult (or easy) it is to get the mattress from the box to the bed. Then, we spend time laying on the bed in different positions, taking time to assess it on our backs, stomachs, and sides. Next, we perform our Sleepopolis tests, using specialized tools to measure qualities like motion transfer, bounce, and pressure relief. Our last step is to open up the mattress and take a look at each layer. These steps allow us to give our final verdict on the mattress.