Babies, just like adults, need a good mattress to ensure healthy sleep. Luckily, the market for crib mattresses has become an industry in and of itself, with a seemingly limitless number of options out there. To help you sort them out and find the best crib mattress for your child, we've put together a list of some of our favorites.
The Best Crib Mattresses
Editor's Pick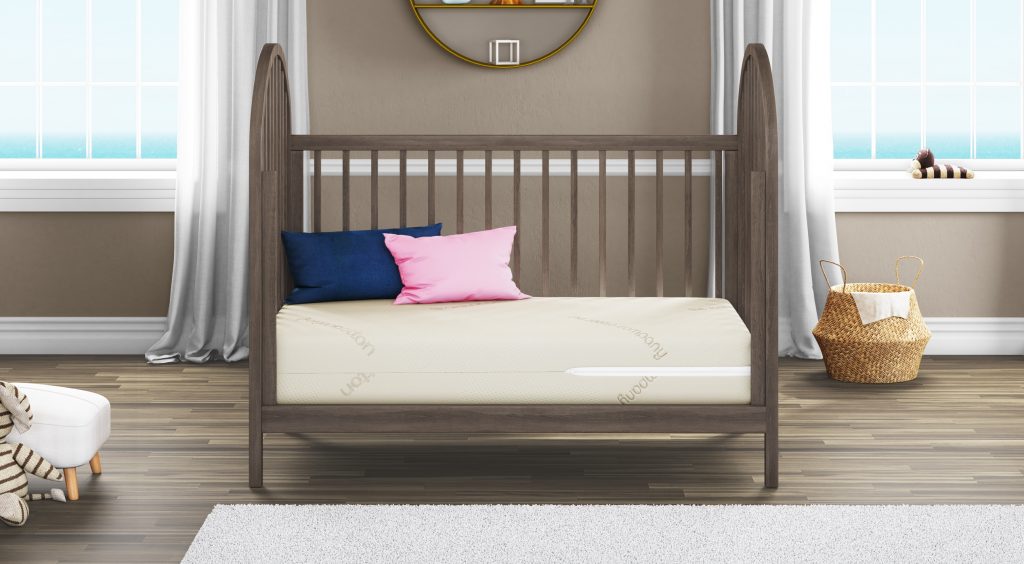 Saatva Crib Mattress
Saatva is known for its sturdy innerspring beds, and the brand has applied a similar design to its crib mattress. Its core is made up of 200 recycled steel coils, providing plenty of extra-firm support for your baby. On either side of the coils is a layer of natural latex with a different firmness. When your child is an infant, keep it on the double-firm side. Once they're a toddler, flip it to the firm side. 
Why It's Good For Your Baby
The mattress has a removable accident-proof cover, which makes cleaning a cinch.

It's been GREENGUARD Gold Certified, meaning the mattress is free of harmful emissions, formaldehyde, and VOCs.

The latex is naturally hypoallergenic.
Best Flippable Crib Mattress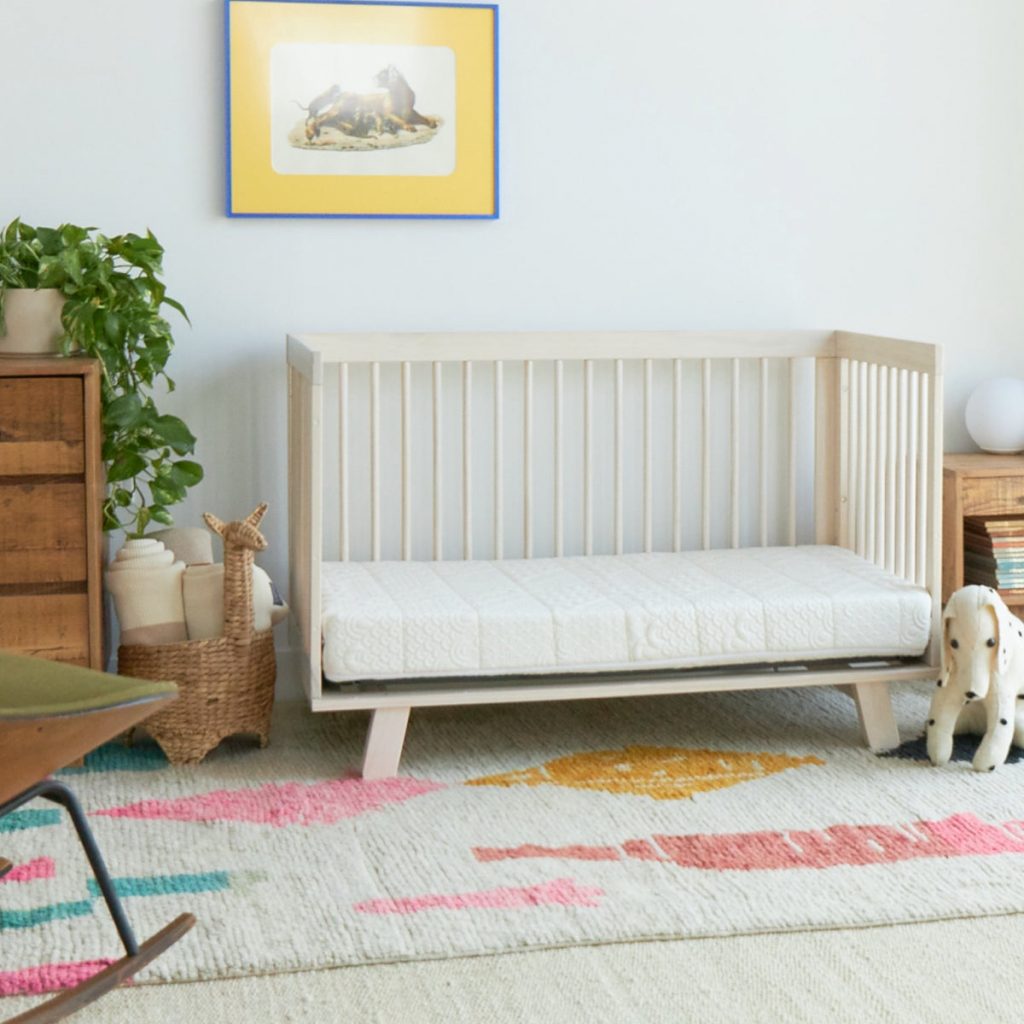 Brentwood Home EcoAir Waterproof Baby Crib Mattress
As babies grow, their sleep needs change. That's why the EcoAir Waterproof Baby Crib Mattress from Brentwood Home is flippable, with one side being firmer for infants and the other being softer for toddlers. Regardless of which side your child is sleeping on, they'll be supported by an extremely breathable core with an open-cell construction that, true to the bed's name, is mostly air. 
Why It's Good For Your Baby
The mattress has an inner and outer cover, both of which are removable and washable.

You can also wash the core by removing it and wiping it down with cold water and detergent.

The bed's construction is GREENGUARD Gold Certified.
Best Cooling Crib Mattress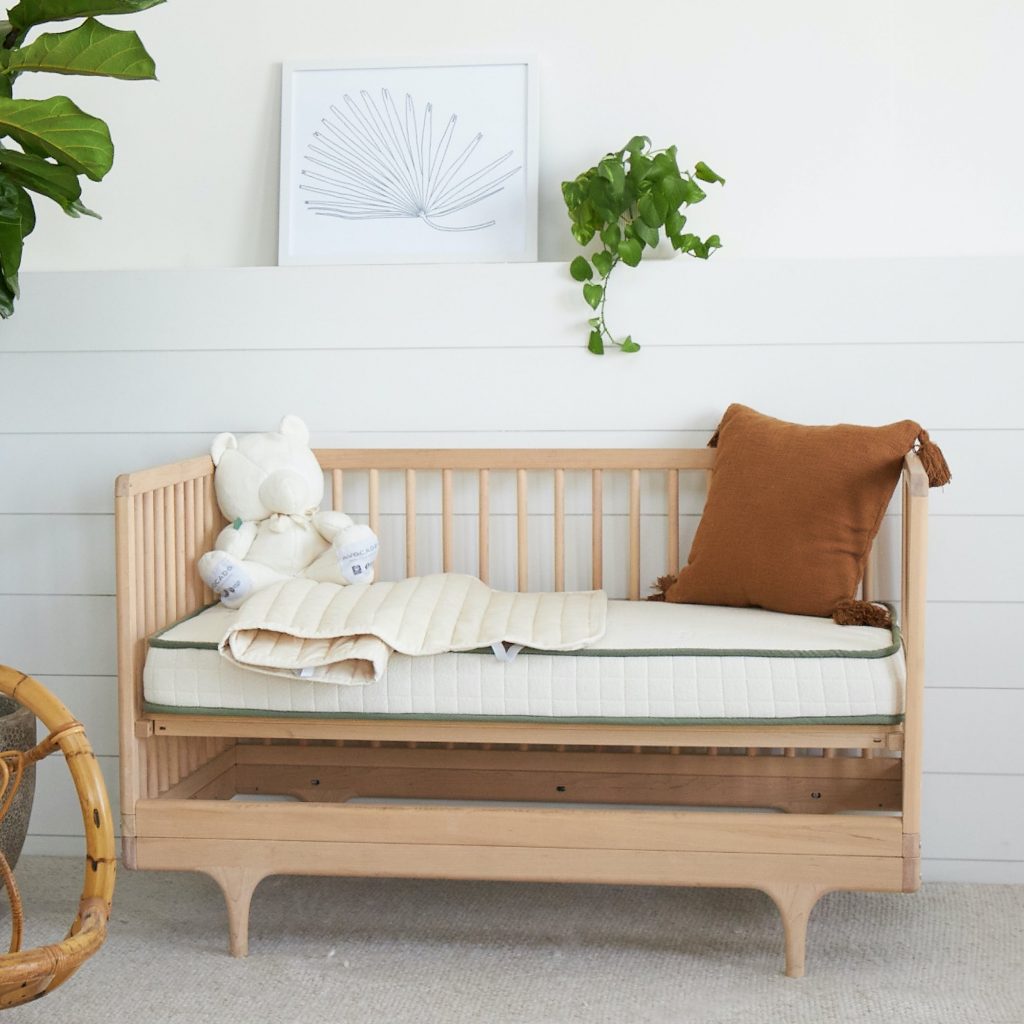 Avocado Organic Crib Mattress
Not only does Avocado's Organic Crib Mattress sleep cool; it sleeps naturally cool, thanks to its environmentally friendly materials. There's an infant side and a toddler side, both of which are made with Dunlop latex — a substance that's much more breathable than memory foam. The mattress also provides softness with organic cotton and wool, the latter of which should help your child stay cool during the hotter months and warm during the colder ones. 
Why It's Good For Your Baby
The mattress is GREENGUARD Gold Certified, 100% GOTS Certified, and MADE SAFE Certified.

Avocado manufactures their crib mattresses at the company's own factory in Los Angeles.

Between the two sides, this crib mattress is suitable for children 0–4 years old.
Best Firm Crib Mattress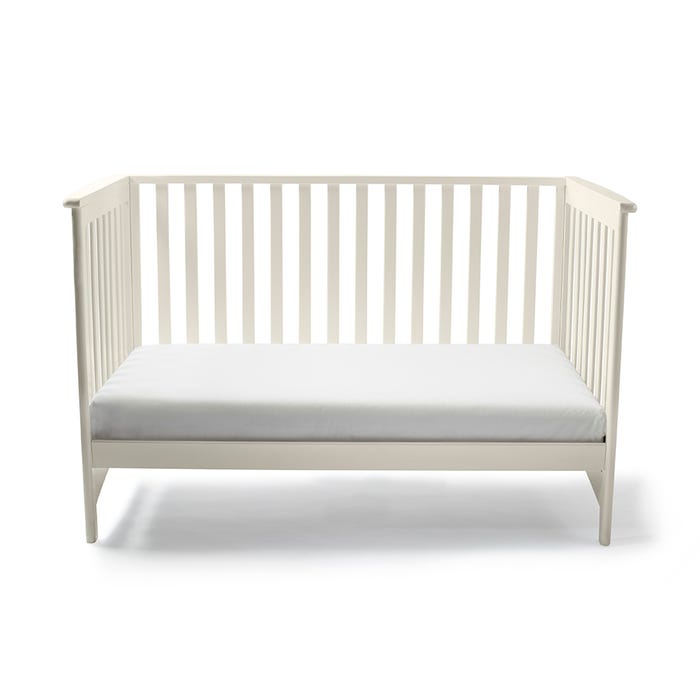 Naturepedic Classic Organic Baby Crib Mattress
Many pediatricians recommend a firm mattress so your baby can get the support they need while growing. With that in mind, little ones should be comfortable and healthy on the Naturepedic Classic Organic Baby Crib Mattress. For the core, you can choose from either innersprings or the brand's patented wavesupport — a kind of s-shaped filling that works to give your baby a slight lift. Surrounding the core is a layer of organic cotton batting, followed by an extra firmness support layer, and an organic cotton exterior that's waterproof and easy to clean.
Why It's Good For Your Baby
These are handcrafted beds, put together by a team of Amish craftsmen.

Each mattress is made in the USA and comes with a lifetime limited warranty.

Every Naturepedic mattress has passed government flammability requirements without having to resort to harmful flame-retardant chemicals.
Best Organic Crib Mattress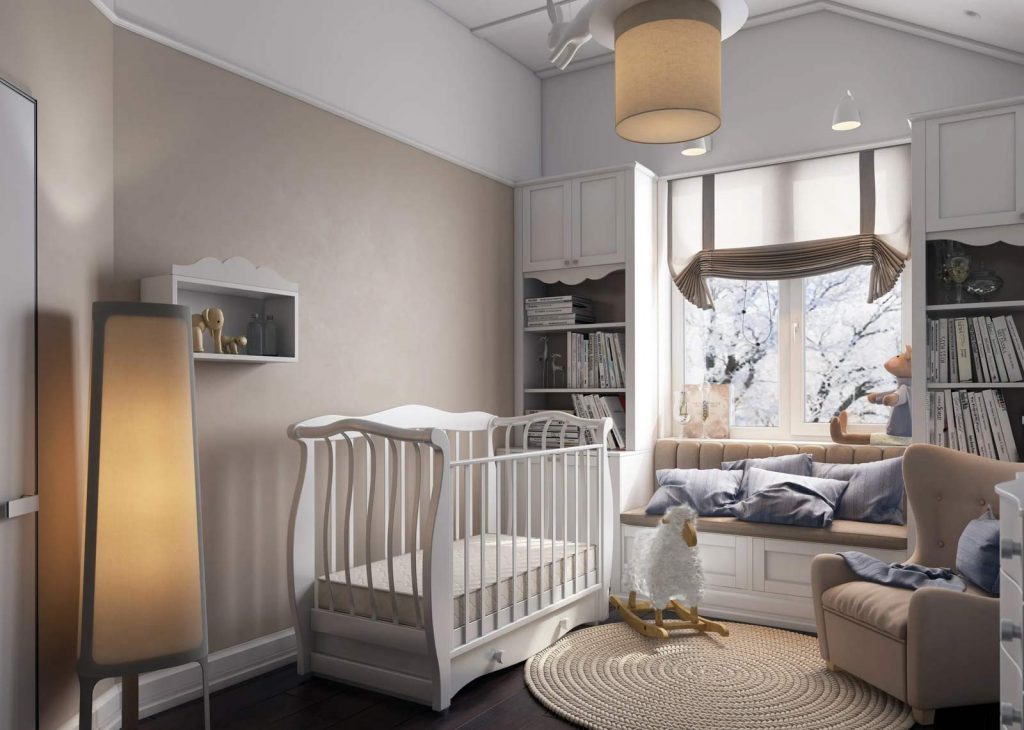 Nest Stork Certified Organic Crib Mattress
As the avian brand name implies, the Stork Certified Organic Crib Mattress from Nest Bedding is made with nature in mind. Whether you choose the organic latex or the innerspring mattress, each one is made with eco-friendly materials, including an outer layer of GOTS Certified organic cotton. If you go with the latex, the bed's core is made from GOLS Certified organic latex. 
Why It's Good For Your Baby
Both the organic latex and the innerspring option have a firm feel to give your baby the proper support.

Nest has its own eco-friendly factory where it manufactures each mattress.

The wool provides a natural fire barrier that doesn't rely on any chemicals.
How to Choose the Best Crib Mattress for Your Baby
Despite being smaller in size than adult mattresses, crib mattresses have their own unique features, materials, and constructions. Here are some factors to consider when weighing all of the different options out there.
Materials
As with standard mattresses, crib mattresses can have a core made of foam, coils, or some mixture of different materials. Some, like the wavesupport in Naturepedic's crib mattress, even have patented support systems designed with little ones in mind. While there's no single right choice for everyone, you should consider what kind of materials you want to expose your child to. For instance, if your baby has allergies, you may want to consider a hypoallergenic or organic mattress made of latex.
Dual Siding
As your child grows from an infant into a toddler, they'll need a slightly softer sleeping surface, which is why so many crib mattresses (including several on this list) have two different sides. While you certainly don't have to opt for a flippable mattress, you should decide ahead of time whether or not you want to buy a new bed in a year or so, or just flip over the one you currently have.
Care
It's no secret that babies and toddlers tend to be messy. That's why most crib mattresses are going to have, at the very least, a removable and washable cover. But some products go the extra mile with both an inner and an outer cover, accident-proof surfaces, or even a core that can be removed and spot-cleaned. Decide how cleanable you want your crib mattress to be, then decide which product meets your criteria.
Certifications
Many crib mattresses will tout a laundry list of certifications. So what should you make of all these acronyms? Here's a quick rundown of a few that you'll see in this roundup.
GREENGUARD and GREENGUARD Gold: Any mattress with this certification will have been made without harmful emissions, formaldehyde, and VOCs. GREENGUARD Gold has even stricter restrictions, and is often applied to products used in schools.
GOTS (Global Organic Textile Standard): This means that the materials and textiles of the mattress are made with at least 70% certified organic natural fibers. Beds made from over 95% certified organic natural fibers receive the official label grade of "organic."
MADE SAFE: Short for "Made With Safe Ingredients," this means that the mattress hasn't been made with any chemicals that are known to be harmful to human health, wildlife, or ecosystems.
GOLS (Global Organic Latex Standard): This certification applies specifically to latex beds. If they're GOLS certified, it means that they're made with at least 95% latex, and all other materials have been manufactured with certain chemical restrictions.
Need a mattress for your older children, too? Check out our guide to the best mattresses for kids.
Recap: Best Crib Mattresses 2023