Ah, silk pillowcases — where do I begin? They're impeccably smooth, irresistibly lustrous, and uniquely soothing on the skin. But they're not all created equally, and when you're on the hunt for a silk pillowcase, it can be tough to separate the best from the rest. Well, that's where I come in.
So settle in, sleepers, because I've rounded up the top six best silk pillowcases I've ever had the pleasure of testing. I'll show you what they're made of, how they feel, and let you in on my personal tips and tricks for finding the silk pillowcases that fit your individual wants and needs. Let's get started!
Best Silk Pillowcases
Methodology: How To Shop For Silk Pillowcases
As eager as I am to dive right into my top five favorite silk pillowcases, let's first discuss the methodology behind my decisions. Ultimately, picking the one that's perfect for you is a personal choice, but there are some important things to keep in mind while you shop.
Material
There are many different types of silk from which to choose, but in this review, we're focusing on one in particular — mulberry silk. Mulberry silk is the most common type of silk, and it's also considered the highest quality thanks to its exceptionally long, round, and fine threads.
That said, you might occasionally encounter Tasar silk (which is produced by caterpillars rather than silkworms) and Spider silk (which is spun by Madagascan spiders), but keep in mind that mulberry silk makes up about 90 percent of the world's silk supply. Personally, I always aim for mulberry silk because it's extra smooth and durable, and every pillowcase in this roundup is made from 100 percent mulberry silk.
Weave
Unlike with cotton, the weave style used to make silk bedding is not always explicitly given. And if it's not, that usually means it was crafted using a plain weave in which the weft (horizontal) threads alternate over and under the warp (vertical) threads.
That said, charmeuse, chiffon, and crepe de Chine are all very popular weave styles used in the world of silk, and they each bring unique traits to the game. Charmeuse silk is known for its exceptionally lustrous sheen, silk chiffon is very light and transparent in appearance, and crepe de Chine features a distinctly crimped texture.
In this review, I'll show you examples of plain, charmeuse, and crepe de Chine silk (as they're the most common/best for bedding), but I suggest you take some time to research the various weave styles. After all, the weave style directly affects how a silk fabric looks and feels!
Momme
When you're shopping for silk bedding, it's time to forget thread count and focus on momme.
Momme is the term used to measure the weight of a silk product, and it says a lot about both the quality and durability of the fabric itself. However, sometimes momme isn't explicitly stated by a bedding brand, and will instead be classified as light, medium, or heavy in weight.
That said, I like to aim for retailers that come right out and tell you what the momme is because it gives the shopper a good sense of what they're working with. And for context, a momme of 12-15 is considered pretty good, a momme of 16-19 is considered great, and anything in the low 20s is as luxurious as it gets.
Of course, it's important to note that momme is not the sole indicator of silk quality, but a high momme typically boosts resistance to pilling, and helps the silk to retain its color.
Uses of Silk & Beauty Benefits
While there is no guarantee that silk can improve the health of your hair and skin, people have been buzzing about its beauty benefits for years. Why? Well, firstly, silk is less absorbent than cotton, which means it's less likely to pull moisture away from your hair and skin as you roll around in bed. In my experience, this can come in great handy for those of us who apply face cream before bed. If you sleep with wet hair, this could be extra beneficial as well.
Additionally, silk fabric is impeccably smooth and doesn't crease like cotton does, which means you're less likely to wake up with those sleep lines imprinted on your face! Some folks swear that this feature, in particular, can guard against wrinkles, but keep in mind that silk is not proven to offer anti-aging properties. (1)
That said, I can tell you that I've been wrapping my hair in silk for years, especially when I want to protect my hairstyle throughout the night. Silk provides considerably less friction as compared to cotton, and believe me when I say that the less friction you've got rubbing up against your hair, the less frizzy it'll be by morning.
But if you've got beauty benefits on the brain, I suggest you go with a pillowcase made from 100 percent silk rather than a silk blend. A pillowcase made from a blend of silk and cotton, for example, won't feel the same and have the same properties as pure silk. And remember: while silk is not proven to provide the beauty rest you're seeking, it is a fact that cotton is more absorbent and produces more friction. (2) So take that as you will!
Wash Care
As I said, I am a big fan of silk… But what I'm not so crazy about is the high maintenance that often comes with it.
More often than not, pillowcases made from 100 percent silk need to be carefully washed by hand, and then left to air-dry. And when I say air-dry, I don't mean line-dry! Leaving your silk to dry outside in the sun can actually damage and/or discolor it. So to save you some time (and money), allow me to detail the safest ways to care for your silk pillowcase:
Having your silk pillowcase dry-cleaned is usually a safe bet, but if you prefer to do it yourself, I suggest you hand-wash it in cool water with a mild detergent.
Then, allow it to air-dry indoors, away from the sun.
If you choose to machine wash and dry your silk pillowcase, put it inside a mesh garment bag so that the delicate fabric doesn't snag on anything in the washer/dryer.
Lastly, if you wash/dry your silk pillowcase by machine, use a silk-safe detergent (Woolite is my go-to) and never use fabric softener (it can leave a weird residue on the surface fibers!).
Remember, folks — silk sleep accessories are relatively pricey, and they're very delicate. It would be a shame to spend a pretty penny on a new silk pillowcase only to watch it fall apart due to improper wash care. And if you're ever in doubt, check the exact wash care instructions as given by the bedding brand itself.
Related: Best Pillowcases
Price
The price range for silk pillowcases is very wide, and I've seen them cost anywhere from $15 to $700 (for a single pillowcase). Ultimately, price largely depends upon the quality of the silk, but it can also be affected by the popularity of the brand that sells it. That's why I always suggest that you take advantage of a trial period when it's offered.
A trial period gives you a set amount of time to test a product before fully committing to it and, in my experience, lets you know if it's really worth the hype and money. If, within that trial period, you decide that the product is not the right fit for you, just send it back for a refund.
Best Silk Pillowcases
Alright, sleepers, now that we're fully equipped with all the knowledge we need to shop for silk, it's time to dive into this roundup!
Editor's Pick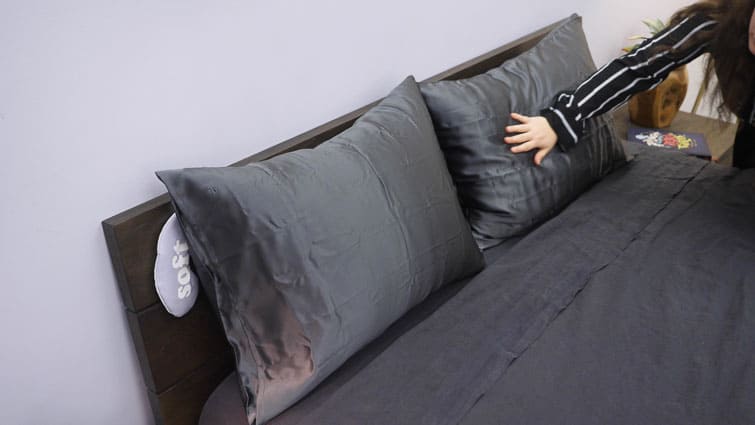 Brooklinen Mulberry Silk Pillowcase
While I did personally select every sleep accessory on this list, I'll admit that the Mulberry Silk Pillowcase from Brooklinen is my absolute favorite.
For me, this one checks all the boxes of a great silk pillowcase. It's made from 100 percent mulberry silk which is widely considered to be the highest quality of silk you can find thanks to its extra long and fine threads. Additionally, it features a charmeuse weave which gives it a very lustrous sheen (and let's be honest — we want our silk to be super shiny).
But what makes this pillowcase extra durable and smooth is its substantial momme of 22. As I said earlier, momme says a lot about the overall quality of a silk product, and anything in the low 20s is top notch luxury. So if you're looking to snooze on a strong-yet-delicate silk pillowcase, I heartily suggest you give this one a try!
Not to mention, it comes in five different colors, all of which are solid and subtle so that they can seamlessly blend with your bedroom's current decor. And for those who avoid zippers because of the potential to snag hair or poke skin, you'll be glad to know that this pillowcase features an envelope closure that keeps your pillow securely tucked away with an extra flap of fabric.
Between the strong mulberry silk, shiny charmeuse weave, and luxuriously high momme, you're looking at one impressive pillowcase. And if you're feeling pretty sure that it's the right pick for you, treat yourself to all the details in my full review of the Brooklinen Mulberry Silk Pillowcase.
Smoothest Feel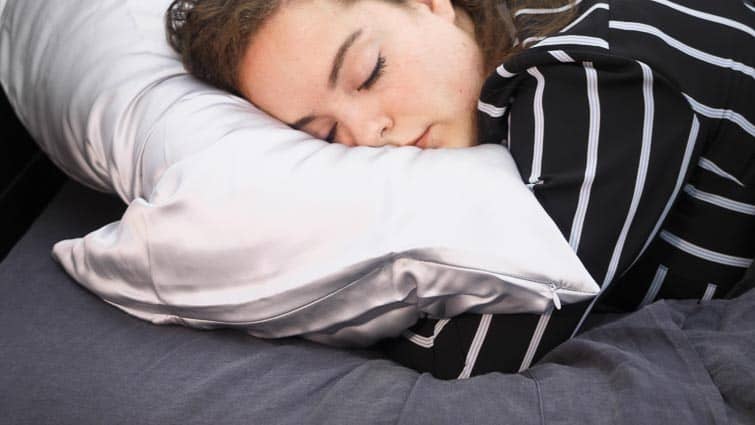 Coop Sleep Goods Silk Pillowcase
Next up on my list is the sumptuously smooth silk pillowcase from Coop Sleep Goods.
Made from 100 percent mulberry silk, this pillowcase feels soft and soothing on the skin. The folks at Coop Sleep Goods say that its perfectly smooth texture is ideal for taming frizzy hair, and as a frizzy-haired sleeper myself, I can vouch for that! Remember — silk is typically less absorbent and staticky than cotton, which can serve to keep your hair and skin feeling extra soft.
But aside from how it feels, I love how this pillowcase looks. It comes in two colors — gray and cream — but the gray looks more like silver, if you ask me. Both colors offer this beautiful, shimmery glow that brings a very elegant aesthetic to the bedroom.
Unlike the pillowcase we just looked at, this one has a slightly lower momme of 16.5. Of course, a 16.5 momme is still considered great quality, but this pillowcase is going to feel a bit thinner and more delicate than the one from Brooklinen. Personally, I found the light and airy quality of this silk to be especially breathable, which might appeal most to sleepers who run hot.
I will say that I've reviewed several products from Coop Sleep Goods and have always been very impressed by this brand's craftsmanship. And if you want to see what else it has to offer, take a look at our reviews of the Coop Sleep Goods body pillow and mattress topper!
Best Mulberry Silk Pillowcase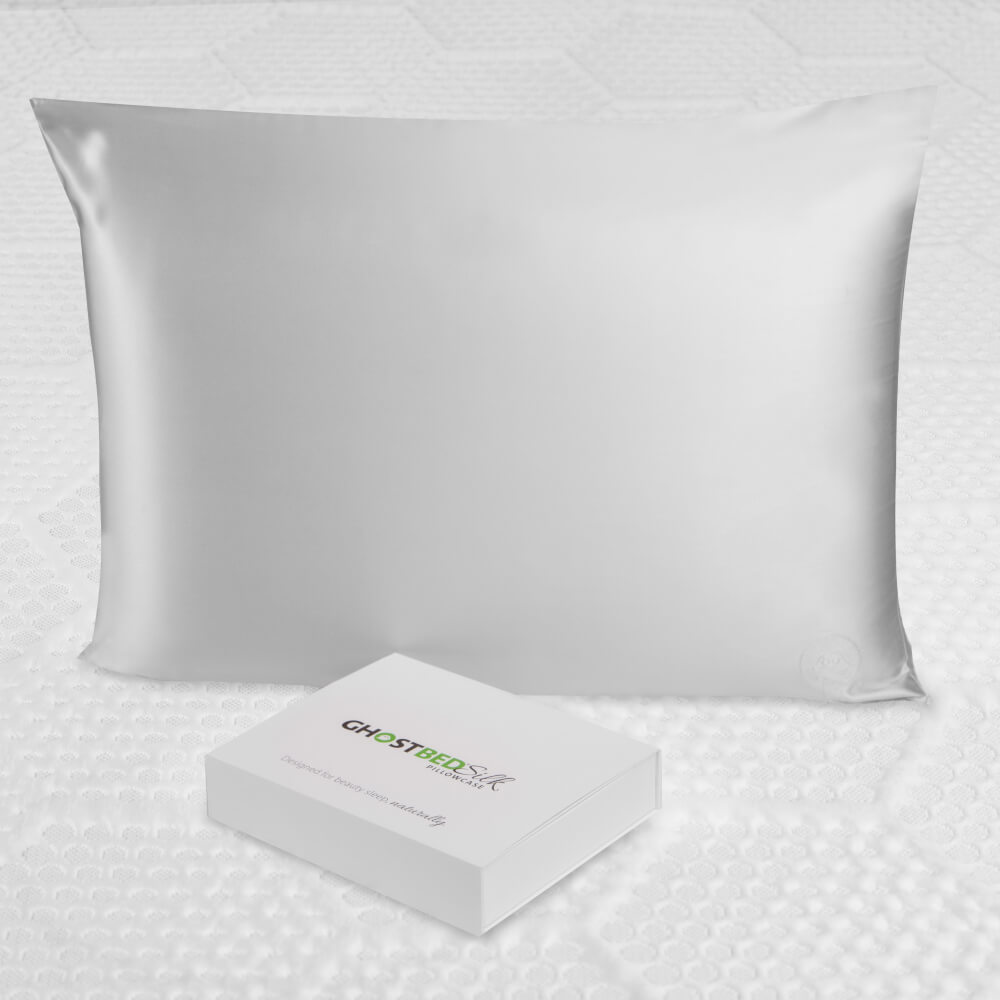 GhostBed Silk Pillowcase
GhostBed's Silk Pillowcase is made from Mulberry silk, which is basically the Egyptian cotton of silks. It's the highest quality silk out there, and I love the fact that GhostBed's is 100 percent mulberry silk. On top of that, it has a momme (silk version of thread count) of 22. A silk pillowcase with a momme count above 20 will have the most luxurious feel.
Another thing I like about this pillowcase is that it has a zipper closure. Silk pillowcases are much more slippery than cotton pillowcases, and are therefore more likely to slide off your pillow while you sleep. Luckily, GhostBed has thought of this predicament by introducing a zipper closure, so you don't have to worry about slippage.
Finally, this pillowcase comes in two sizes: queen (standard pillow) and king (larger pillow). You can also choose your color preference: classic white or blush.
Best Style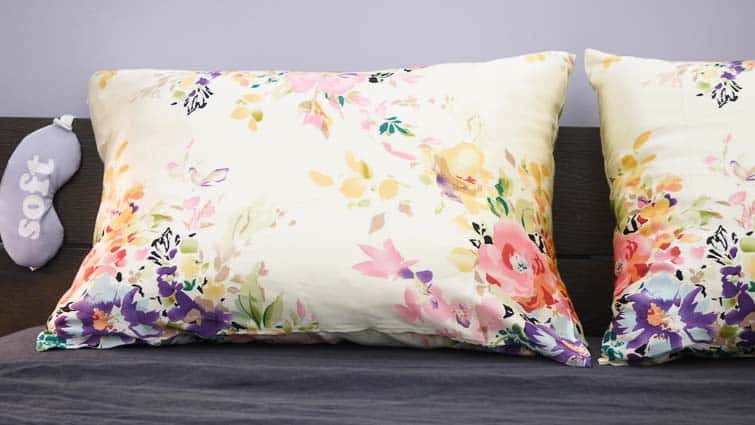 SLPBaby Silk Pillowcases
If you're looking for a pillowcase that's as beautiful as it is smooth, look no further than SLPBaby.
Don't get me wrong — I think every pillowcase in this roundup is gorgeous. But I tested this one in a floral printed pattern that, in my opinion, brings a uniquely luxurious aesthetic to the bedroom. And if you aren't a flower person, no worries. This pillowcase comes in thirty different designs, by far the most of any brand on this list. So take some time to decide which style is your favorite!
While the momme and weave style are not listed by the brand, I can tell you that it feels very similar to the one from Coop Home Goods. It's light, delicate, and drapes elegantly over my pillow's shape. But most importantly, it's made from 100 percent pure mulberry silk which, as we've learned, guarantees great quality.
One of my favorite features of this pillowcase is its discreetly hidden zipper. Typically, I shy away from zipper closures as they sometimes poke me or snag a bit of my hair. But the zipper on this pillowcase is carefully crafted to be totally unseen and tucked away, ideal for those who want their pillow to be completely covered (and not have to worry about the dangers of dangling zippers!).
Best for Your Budget
MYK Silk Pillowcases
If you think the SLPBaby pillowcase is a great value, get a load of this one from MYK Silk!
Let me start by saying that sleepers on a budget are bound to be most compatible with this pillowcase, as its price ranges from $18-$20. So… what's the catch? Well, the idea behind this design is that, since you only sleep on one side of the pillowcase, why pay for both? That's why the top of the pillowcase is made from 100 percent mulberry silk, and the underside is made from cotton.
More: Check out my roundup of the best sheets for your money!
Make no mistake — the mulberry silk portion of this pillowcase is luxuriously smooth, durable, and features a high momme of 19. But this dual silk/cotton construction essentially cuts the price of a pure silk pillowcase in half which, I have to say, is a fantastic idea. Sleepers looking to catch Zzz's on high quality silk without breaking the bank should definitely give this pillowcase a try.
Not to mention, this pillowcase comes in over a dozen different colors (including the bright red that I'm testing here!). And hey, if you aren't into the idea of a cotton underside, MYK offers pillowcases made from 100 percent mulberry silk as well.
Best Crepe de Chine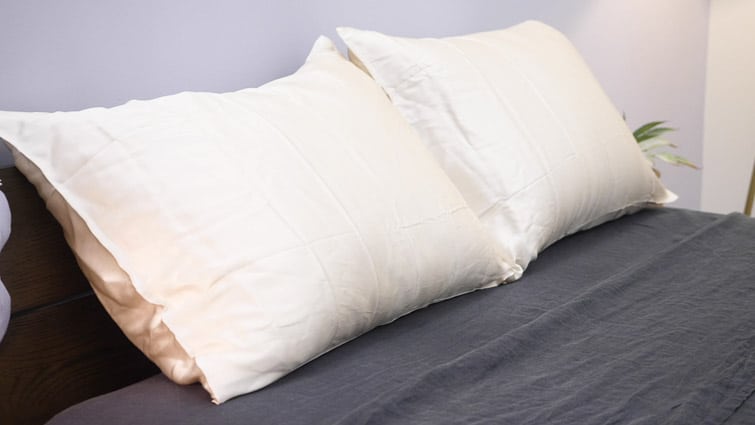 Parachute Home Silk Pillowcases
And finally, we come to this pretty pair of pillowcases from Parachute Home.
Made from 100 percent mulberry silk, these pillowcases bring the smooth feel and high quality that I look for… But there's one main thing that separates this fabric from the rest in this roundup. These pillowcases are woven in the crepe de Chine style, which makes them feel exceptionally light, delicate, and fine against the skin.
Crepe de Chine silk is created by twisting the silk yarns during the weaving process, and then allowing them to untwist before the fabric is finished. This results in a uniquely textured finish that's often used in silk gowns and formalwear. That's why these pillowcases offer a distinctly different aesthetic as compared to the others and, in my opinion, they look like part of a wedding dress.
I'm testing these pillowcases in "blush," which is this pretty pink-ish color, but they're available in classic white as well. Additionally, they feature Parachute's signature back envelope closure, which means there are no openings on either side of the pillowcase. And while the momme isn't explicitly given here, I find this silk to be the most fine and delicate of the bunch.
If you want to know more about what this brand has to offer, be sure to check out my review of Parachute's sateen, linen, and percale sheet sets!
Final Thoughts
While I could definitely talk about silk all day (believe me, I could), all good reviews must come to an end some time. But don't worry! Now you're all equipped with the info you need to embark on a silk-shopping adventure, and take a long beauty-nap when you've found the pillowcase of your dreams. Just be sure to follow the methodology I outlined in this guide, take advantage of the trial periods offered by some of these brands, and pay close attention to all the delicate details.