Wading through the bedding world can be confusing, but you've come to the right place. We've tested a lot of sheets and the result is our roundup for the best bed sheets of 2023. At the bottom of the page, we'll share our tips and tricks for finding the bedding suited to your needs. You should get all the info you need for your sheet-shopping experience. Let's get started!
Best Sheets of 2023
Best Linen Sheets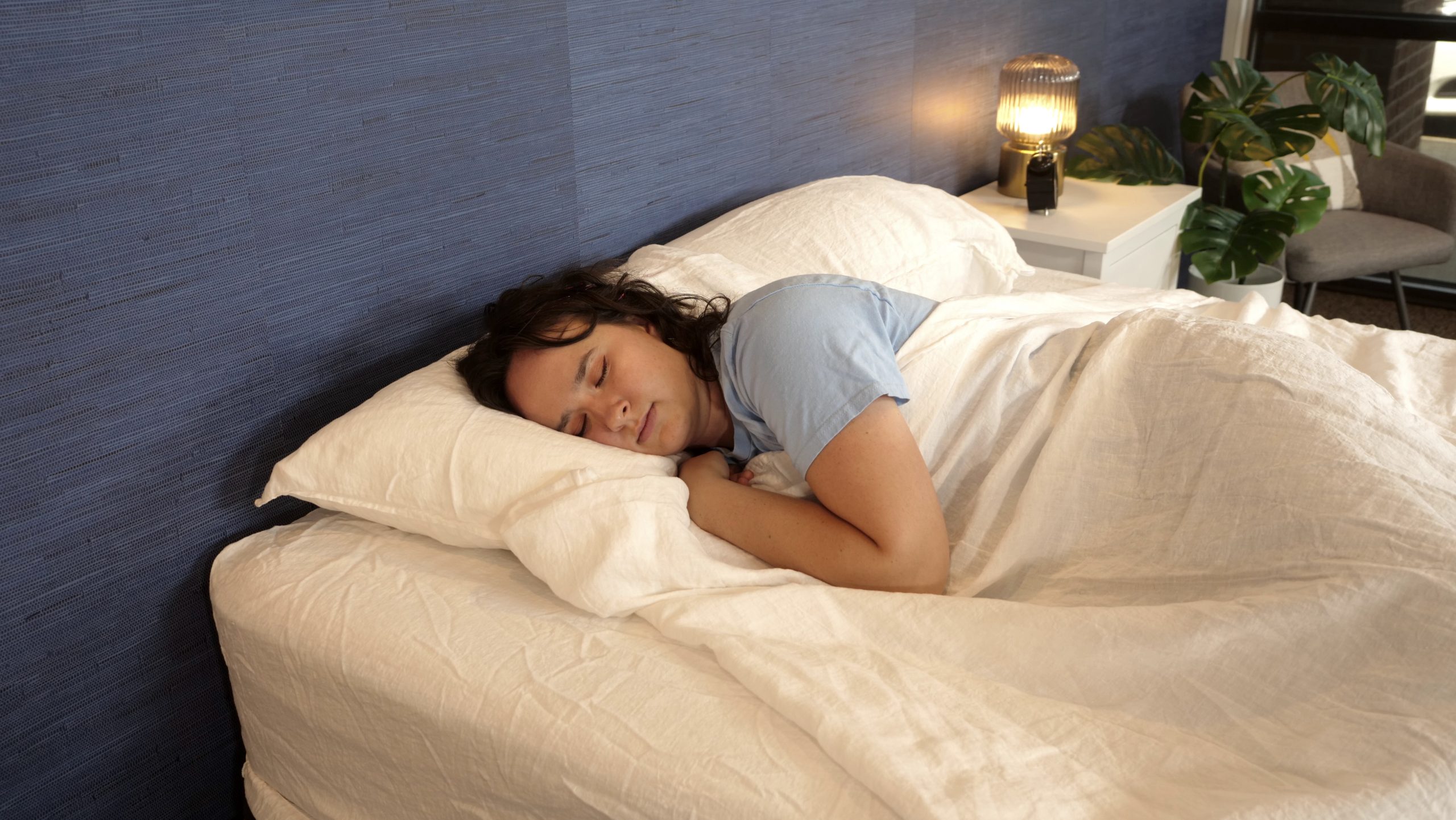 Brooklinen
Linen a great summertime material because its thermoregulation helps dissipate your body's heat. The Brooklinen linen sheets are one of our favorites because they offer luxury features. They're made with thicker, high-quality fibers for extra durability. They're also pre-washed for initial softness. Finally, the Brooklinen Linen sheets come in great colors and designs, and you can mix and match them when you buy the bundle!
Why We Love the Brooklinen Linen Core Sheet Set
They come in many cool colors and designs. You can mix and match them when you buy the bundle!
Brooklinen provides free shipping in the U.S.
You have a full year to return these linen sheets if you're unhappy with your purchase.
You can learn more in our full Brooklinen Linen Bundle review.
Best Non-Slip Sheets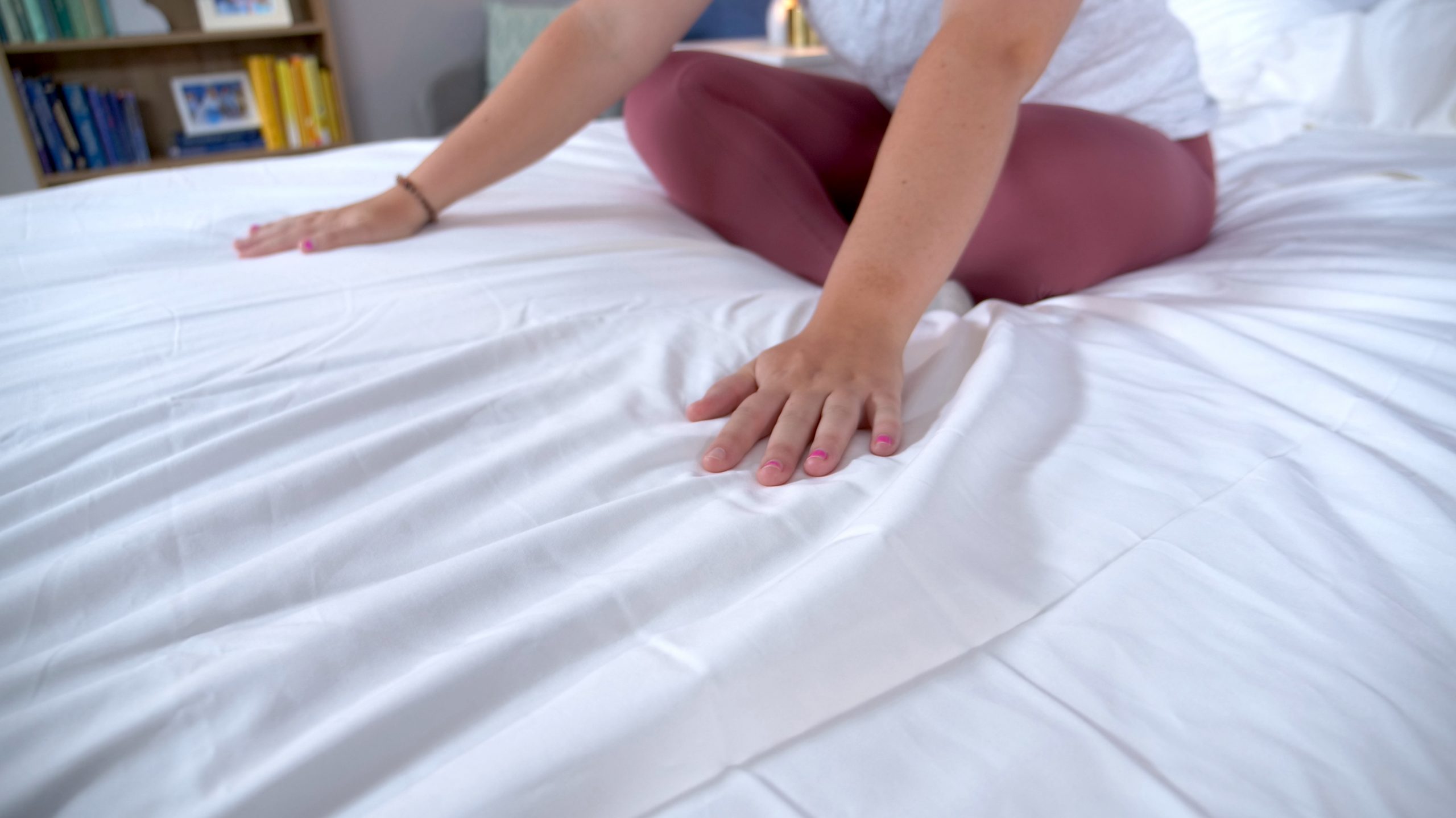 Sleep Number True Temp Sheet Set
If you've had it with your sheet corners slipping off the mattress, this could be the sheet set for you. The Sleep Number True Temp Sheet Set provides ExactFit and SmartFit designs, which work in tandem to keep your sheets in place. Made with Sleep Number's 37.5 technology, these sheets are also designed to keep you cool.
Why We Love the Sleep Number True Temp Set
They're great for active sleepers thanks to their secure fit.
Their Logic Label makes it easy to figure out how to make the bed without wasting any time trying to guess the right corner to start with.
These sheets were built to last with durable materials and makeup.
Read more in our full Sleep Number True Temp Set review.
Best Bamboo Sheets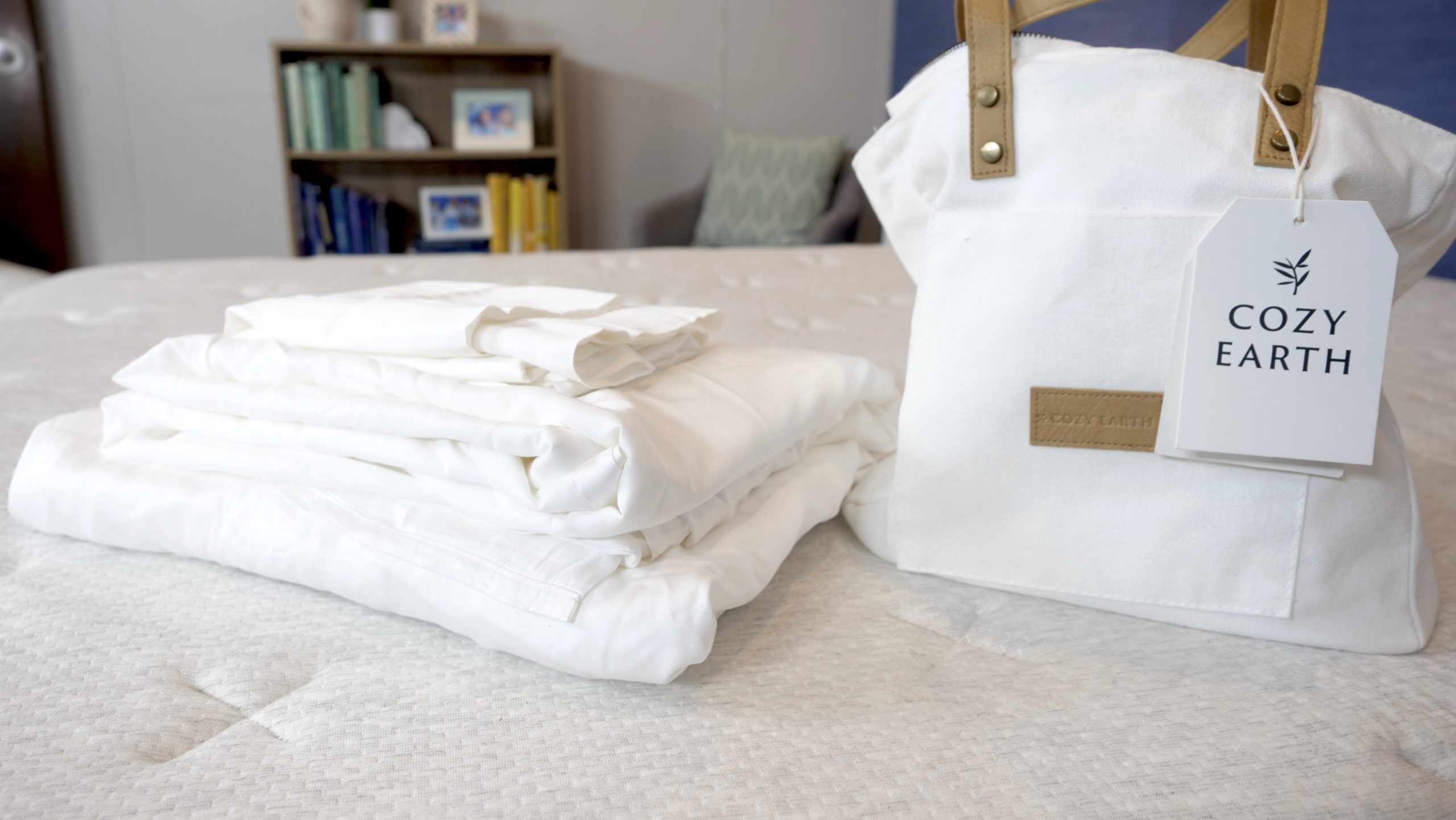 Cozy Earth Bamboo Sheet Set
Environmentalists looking for a comfy, cool night's sleep should consider Cozy Earth's Bamboo sheet set. Made out of 100 percent viscose from bamboo, these sheets are incredibly soft and breathable. Plus, bamboo is a moisture-wicking fabric that keeps sleepers cool and comfortable throughout the night.
Why We Love the Cozy Earth Bamboo Sheet Set
They have an incredibly soft, luxurious feel.
They're made sustainably and have simple care instructions.
These sheets feature very deep pockets, which will fit over even the largest mattresses.
Read our full review of the Cozy Earth Bamboo sheet set.
Best Luxury Sheets
Luxome Luxury Sheet Set
If you're looking for excellent luxury sheets, the Luxome Luxury Sheet Set should be at the top of your list. These sheets use materials so high-quality that they're OEKO-TEX certified. They're made of 100 percent viscose from bamboo (a naturally cooling material) and offer a silky texture that's sure to make you feel like royalty.
Why We Love the Luxome Luxury Sheet Set
These luxurious sheets cost $150 for a queen.
They're machine-washable for easier care.
They feature 17-inch deep pockets.
Our full Luxome Luxury Sheet Set review is coming soon!
Best Deep Pocket Sheets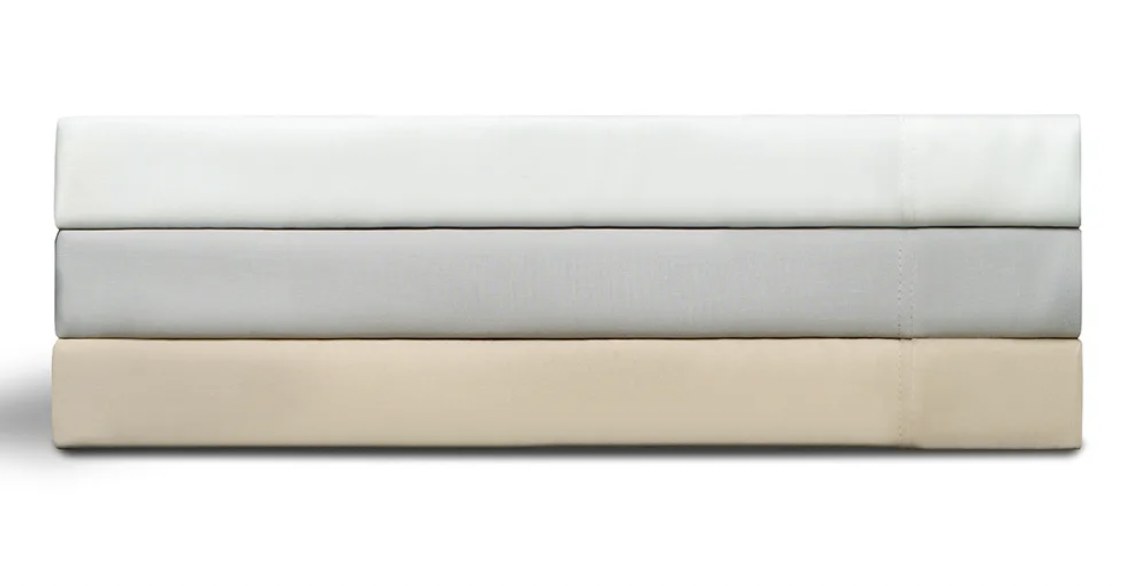 Brooklyn Bedding Deep Pocket Tencel Sheets
Deep pocket sheets are crucial for mattresses with longer heights. The Brooklyn Bedding Deep Pocket Tencel Sheets ensure that your sheets stay on your bed without slipping off. They can accommodate beds from 11 inches to 15 inches.
Why We Love the Brooklyn Bedding Deep Pocket Tencel Sheets
Eco-friendly shoppers should appreciate the Tencel material, which is sustainable and naturally cooling.
They're OEKO-TEX certified, so they're made from safe and quality materials.
These sheets come in three gorgeous neutral colors: khaki, silver, and white.
Our full Brooklyn Bedding Deep Pocket Tencel Sheets review is coming soon!
Best Organic Sheet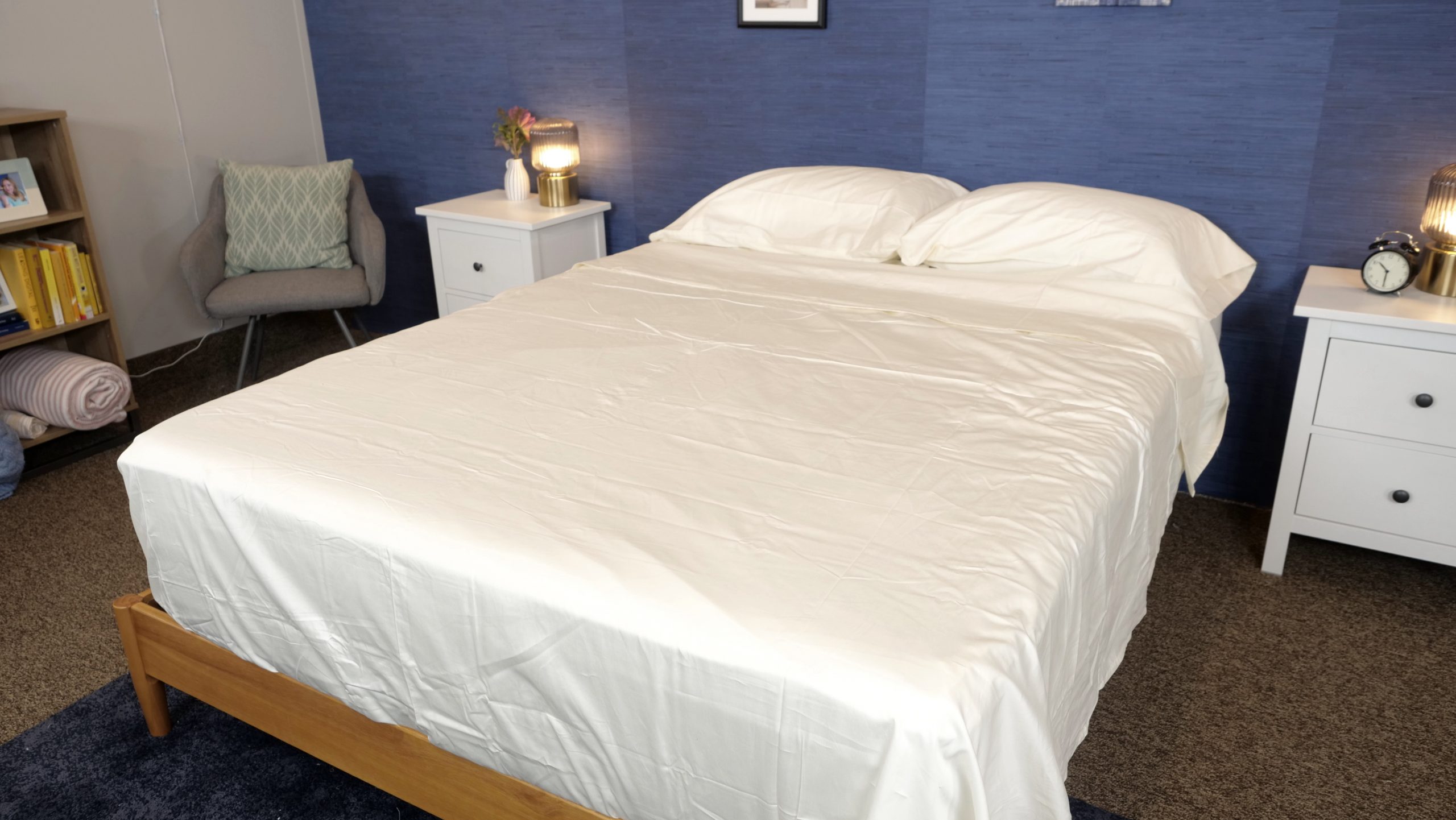 Saatva Organic Sateen Sheets
If you're environmentally conscious, you should appreciate the Saatva Organic Sateen Sheets. They're made with 100 percent long-staple organic cotton woven into 300-thread count sheets. Because they're Global Organic Textile Standard (GOTS) certified, these sheets meet strict quality standards. You can rest easy knowing you're on natural material.
Why We Love the Saatva Organic Sateen Sheets
Because they are sateen woven, these sheets are silky and boast a lustrous sheen.
They have a nice balance between sateen and percale traits.
The thread count and quality of materials makes this sheet set exceptionally durable.
Read more in our full Saatva Organic Sateen Sheets review.
Best Kids Sheets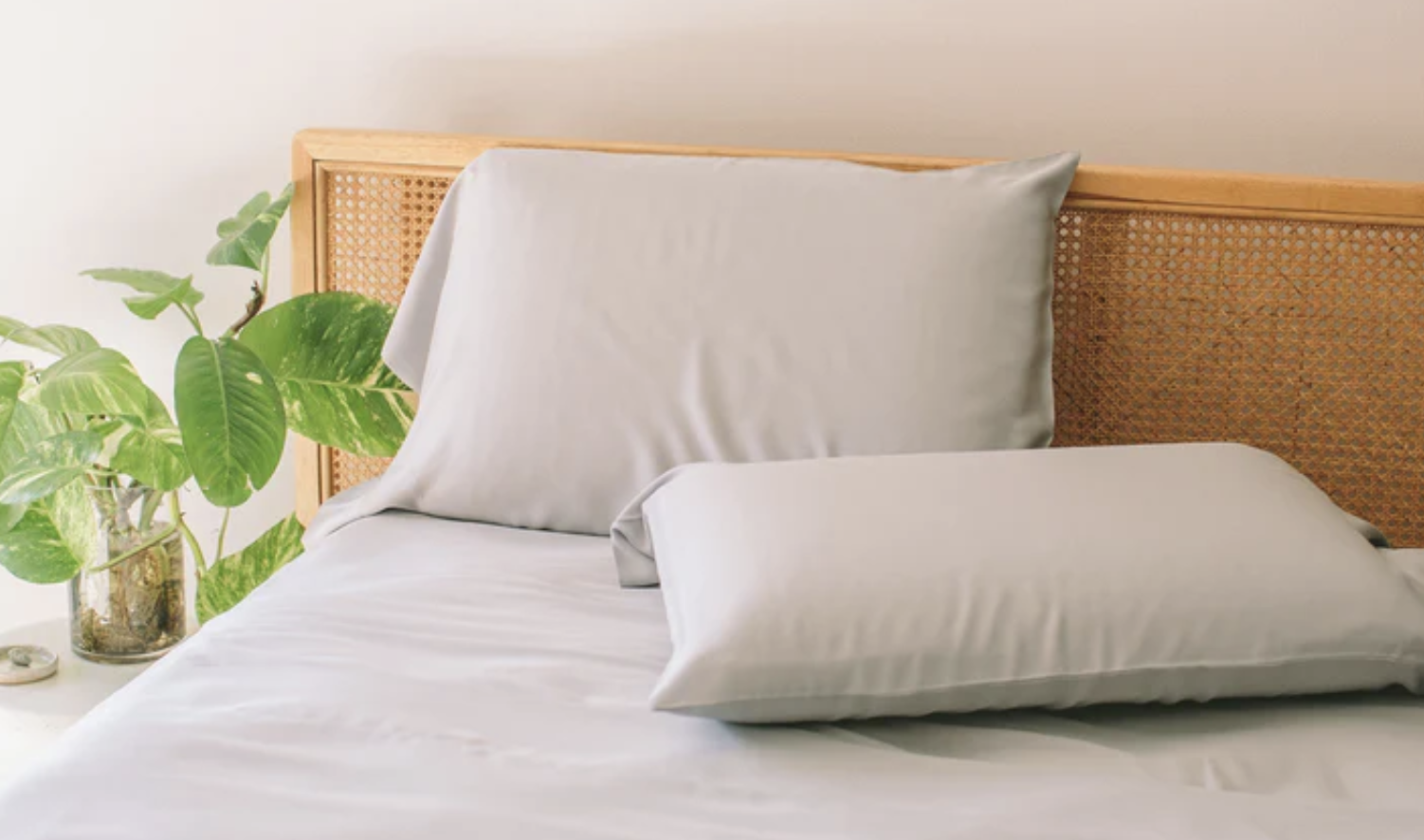 Nest Kids Eucalyptus TENCEL Luxury Sheets
If you're looking for the best kids sheets on the market, look no further than the Eucalyptus TENCEL Luxury Sheets at Nest Bedding. This set is made of TENCEL material, which is eco-friendly and derived from wood. Parents should love that these sheets are both durable and safe. Plus, TENCEL is a naturally cooling material, so you won't have to worry about your kid sleeping too hot.
Why We Love the Nest Kids Eucalyptus TENCEL Luxury Sheets
They're designed for Nest Bedding kids mattresses with a 10-inch height.
These sheets are machine-washable for added convenience.
Nest Bedding offers a 30-night trial, as well as free shipping and returns.
Full review coming soon!
Best Hypoallergenic Sheets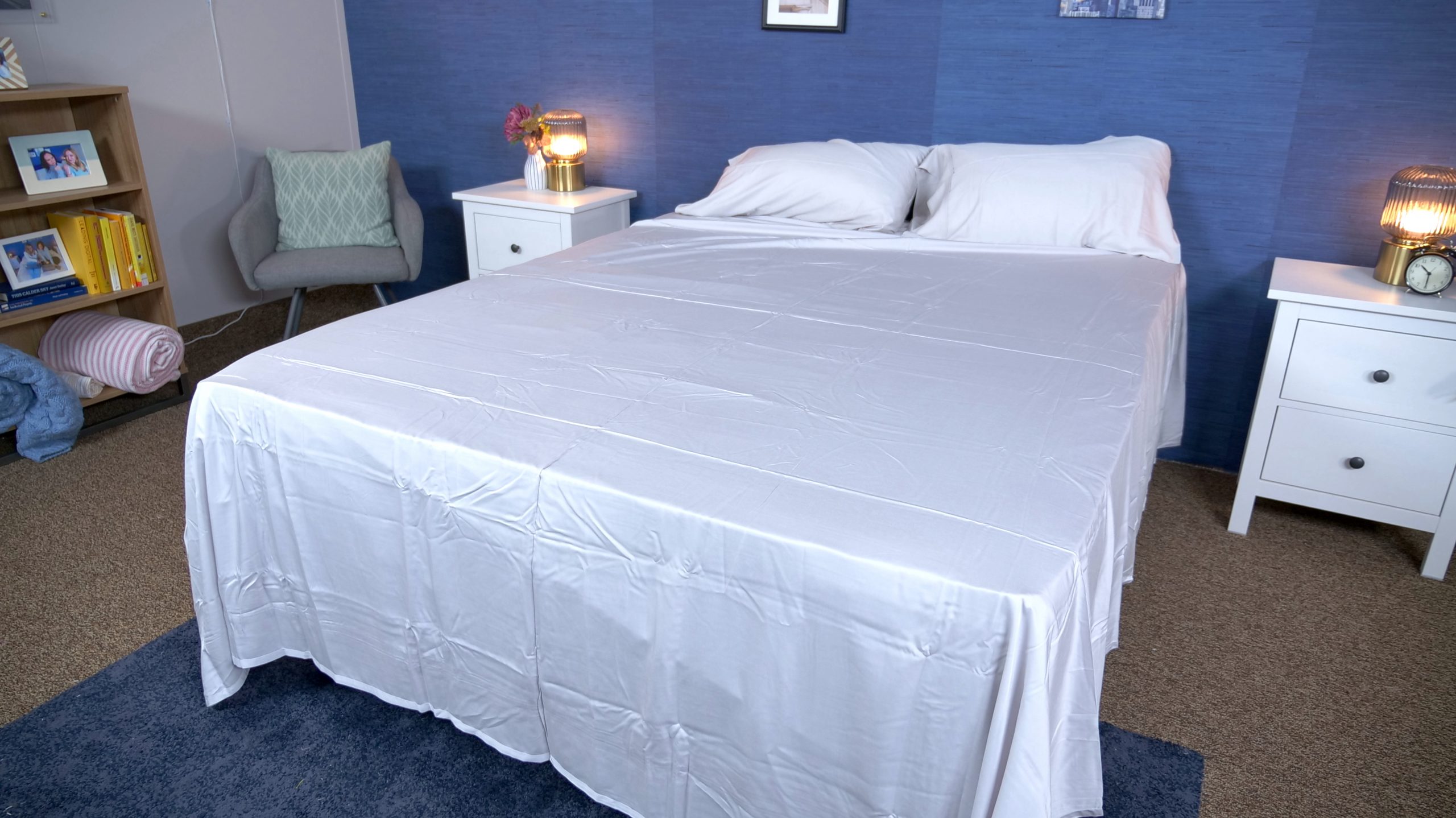 Puffy Sheets
These incredibly soft, luxe sheets are made from 100 percent hypoallergenic bamboo viscose, making them an easy pick for our favorite hypoallergenic sheets. In addition to being hypoallergenic, they're luxuriously soft, breathable, and available in any size you could want.
Why We Love Puffy Sheets
Their silky feel makes sleep feel like a dream.
They're made from climate-adaptive bamboo, so they'll keep you cool in the summer and cozy in the winter.
These sheets are chemical free and a good match for sleepers with sensitive skin.
See our full Puffy Bamboo sheets review to learn more.
Best Soft Sheets
Helix Ultra-Soft Sheet Set
Helix takes soft sheets to the next level with Tencel fibers, which are extracted from eucalyptus and formulated to be incredibly soft, cooling and absorbent. This gives the sheets an irresistibly silky, comfortable feel without any materials that typically trap heat.
Why We Love the Helix Ultra-Soft Sheet Set
Their eco-friendly formulation — these were designed with the environment (and your comfort) in mind.
Their silky soft, luxurious feel.
They have moisture-wicking capabilities that keep sleepers cooler and dryer.
Full review coming soon!
Methodology
As sleep specialists, we've reviewed a number of different pillows available for purchase. We also put each product through a set of tests and inspections. When it came to determining the very best bed sheets on the market, it was necessary for us to look closely at durability, comfort, cooling, and quality of materials. To learn more about what factors distinguish the best bed sheets, read our buying guide beneath the mattress mini-reviews.
How To Shop For Sheets
Personal preference is important to consider, but there are other factors determining the best sheets for your bed, body, and budget.
Materials
It's crucial to ask questions about what time of year a sheet set is suited for, how durable the sheets are, or what the best cooling sheet material is. Allow us to break down some of the most popular bedding fabrics by feel, texture, and coziness:
Cotton –

Perhaps the most popular, cotton bedding is known for its classic soft feel and impressive breathability.

Linen –

Linen bedding has a distinct, coarse texture. It's extremely durable and gets softer over time. It's one of the most breathable fabrics in the world.

Bamboo –

Bamboo-based bedding is an eco-friendly fabric known for its silky feel and lustrous sheen.
Keep in mind that the full list of existing fabrics is incredibly vast, and this review focuses on the ones that are most frequently featured in the world of bedding. But as a general rule of thumb, we suggest shoppers carefully review the "materials description" before committing to a set of sheets.
The Fiber Factor
Pay close attention to the length of the fibers in cotton bedding (also known as staples). This doesn't require any measuring on your part since bedding brands advertise staple-length on each sheet set.
Aim for long-staple or extra long-staple cotton because it's softer, more durable, and less likely to fade over time. Egyptian and Pima cotton are popular examples of long-staple cotton, but they're not the only options.
Linen and bamboo are known for having long, durable fibers. With cotton, the length of the fibers varies more, and it's important to remember that longer is usually better!
Weave Style
There are many different ways to weave fabric, but the two styles you'll see most often are percale and sateen. These weave styles apply exclusively to cotton, whereas linen, bamboo, and other fabrics often feature one consistent weave style.
Percale weaves are characterized by a crisp feel and a matte appearance, while sateen woven bedding is silkier and shinier. Percale woven bedding is often lighter, more breathable, and better suited to sleepers who run hot. Sateen sheets are thicker, warmer, and heavier.
While both weave styles are great, it can be beneficial to rotate between percale and sateen depending on the weather.
Thread Count
So, what's the best thread count for sheets? Keep in mind that thread count is the amount of individual yarns per square inch of fabric. Many shoppers think a high thread count guarantees high quality… but that's not always the case!
Thread count loses its value if you're not working with durable materials. With long-staple cotton sheets, a high thread count can boost the softness and strength of the finished fabric. Cotton sheets woven from shorter, weaker fibers are going to be less smooth and less durable, regardless of thread count.
The average linen sheet set has a thread count of 80-150 (which would be considered quite low for cotton). The thread count for bamboo bedding often ranges from 250-350. It's worth noting that most bedding brands don't advertise thread count on bedding that's not cotton-based.
Any cotton sheet set with a thread count of 1,000 or higher is probably woven from inferior, short cotton fibers. Some bedding brands splice tons of short fibers together in order to boast a higher thread count, but it's a marketing ploy you'll want to avoid.
Final Thoughts
You've seen the best sheets of 2023 and you're well on your way to picking the set that's perfect for you. Remember to keep a close eye on weave style, thread count, and the specific materials used in order to make your shopping experience as fun and efficient as possible! Be sure to subscribe to our YouTube channel and follow us on social media for more answers to your sleep needs.
FAQs
What thread count is the best?
When you're working with high-quality materials like long or extra-long staple cotton, a good thread count ranges from 250-800. That said, you might want to avoid bedding with a thread count of 1,000 or higher, as that often means it was woven from weaker, low quality fibers.
Are bamboo sheets better than cotton?
It comes down to personal preference. Many sleepers find bamboo-based bedding is cooler, more breathable, and better at wicking moisture than cotton. Cotton is still breathable though, and it's among the most popular types of bedding because of its soft feel and various weave styles.
What are the best sheets for hot weather?
Sheets made from bamboo, linen, Tencel, or cotton percale are great for hot weather because they're breathable, moisture-wicking, and lightweight.
What is better, Pima or Egyptian cotton sheets?
Both Pima and Egyptian cotton are regarded as superior cotton types. This is because of their long, fine, and supple fibers. They're comparable in quality, and the main difference between them is geographical! Egyptian cotton is grown in the Nile River Valley, while Pima cotton is exclusively grown in the U.S.A.
Prices listed below are before any offers or discounts.