Welcome to our best memory foam pillows roundup! Whether you're a long-time foam fan or just wondering why this plush material has remained so popular, this guide will provide everything you need to know about picking the best memory foam pillow.
Keep reading for a full breakdown of each pillow that we've tested, and learn all of the expert tips and tricks that will make your shopping experience a whole lot easier. Let's get started!
Best Memory Foam Pillows
Best Memory Foam Pillow – Video Review
Editor's Pick
TEMPUR-Cloud Breeze Dual Cooling Pillow
First on our list is the Tempur-Pedic TEMPUR-Cloud Breeze Dual Cooling Pillow, perfect for side sleepers who love a classic memory foam feel.
Filled with one thick piece of TEMPUR-material, this pillow offers a lofty 5-inch profile and a medium level of firmness. In our opinion, you can't talk about memory foam without talking about Tempur-Pedic. TEMPUR-material is extra-moldable with a super-slow response to pressure, ideal for folks looking to sink deeply into their pillow.
Why It's a Good Pick
Our favorite thing about this pillow is a set of two cooling gel pads beneath the cotton cover fabric. Memory foam has the tendency to trap heat, especially when it's one solid piece like we see here. But the gel pads in this pillow keep both sides feeling cool and cozy throughout the night.
Because of its lofty build, side sleepers are going to be most compatible with the TEMPUR-Cloud Breeze. But the brand makes a range of pillows for all sleeping positions, so be sure to check out our full Tempur-Pedic pillows review to find the one that best meets your needs.
Or read our full TEMPUR-Cloud Breeze Dual Cooling pillow review to dive deeper on this specific Tempur-Pedic pillow.
Price: $189–$229, with a five-year warranty.
Perfect For: Side sleepers who run hot.
Best Memory Foam Pillow for Combo Sleepers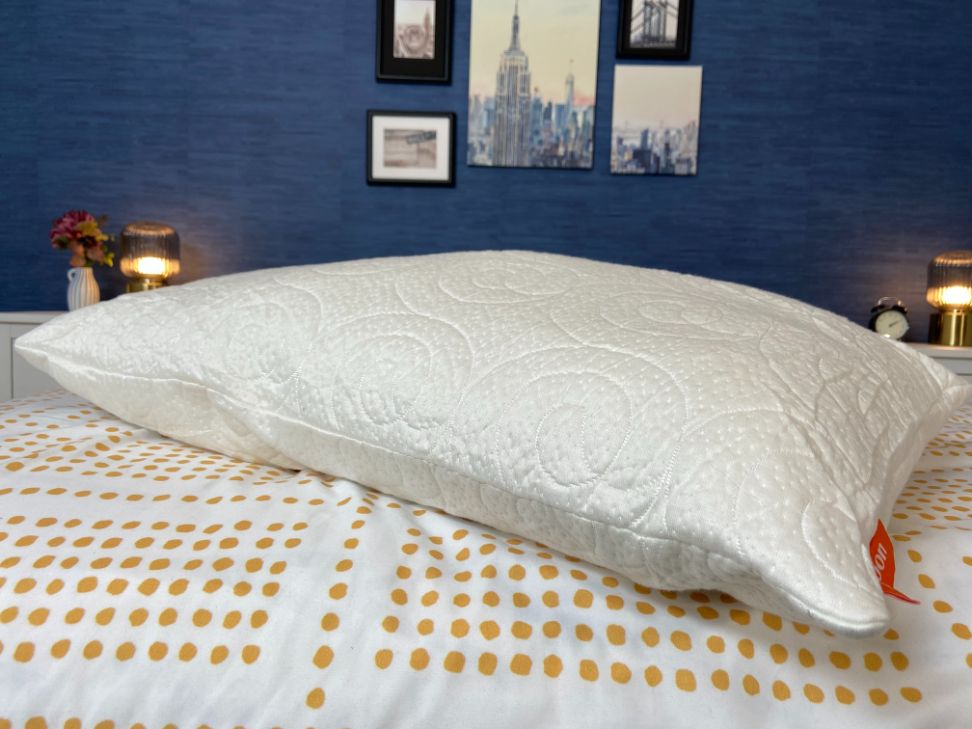 Lagoon Fox Pillow
One of several Lagoon pillows playfully named after animals, the Fox is adjustable, meaning you can add and remove its filling to your liking. The fill is made of a soft yet supportive memory foam, and should be a good fit for several different types of sleepers, including combination sleepers.
Why It's Good For Combination Sleepers
Combination sleepers tend to need a pillow that's responsive enough for them to easily switch positions, and the Fox fits the bill. Because the memory foam filling isn't too soft, you should have no problem moving around while sleeping. Also, the adjustability allows you to find the loft and firmness level that's just right for you.
For more on this pillow, check out our full rundown of several Lagoon pillows, including the Fox.
Price: $120–$140, with a five-year warranty and 100-night trial.
Perfect For: Combo sleepers who switch their sleeping position.
Best Memory Foam Pillow for Hot Sleepers
Brooklinen Marlow Pillow
The Marlow pillow has several features that should help you sleep cool, from the cotton cover to shredded foam filling and mesh gussets. While memory foam tends to sleep fairly hot, all of these touches should go a long way toward keeping your body at a low temperature while you sleep. Feel-wise, we found this to be a medium-firm pillow with a medium loft, both of which are a good fit for back sleepers.
One unique feature to note: You can adjust the height and firmness of the Brooklinen Marlow pillow with its zipper. Unzipping gives the pillow more compression and will allow you to sink in a bit more. While the adjustability isn't as noticeable as a pillow where you can add and remove the filling, it's still allows you to customize the feel of your pillow.
Why It's Good For Hot Sleepers
As a material, cotton tends to be soft and breathable, so we think the Marlow's cover should be comfortable for hot sleepers. And because the memory foam inside is shredded, there's plenty of room for air to flow through the pillow and cool you down. Finally, the mesh gussets allow heat to escape the pillow when your press into it.
For all the info on this cool-sleeping pillow, be sure to dive into our full Brooklinen Marlow Pillow review.
Price: $65–$85, with a 365-day return policy.
Perfect for: Hot sleepers who like a little adjustability.
Best Memory Foam Pillow for Side Sleepers
Layla Kapok Pillow
Shredded memory foam tends to offer a more plush and breathable feel than standard memory foam, and no pillow embodies this quite like the Layla Kapok.
Amply stuffed with shredded memory foam and a natural tree fiber called kapok, this pillow strikes a cozy balance between soft and supportive. For those who are unfamiliar, kapok is a down-alternative that's often blended with other materials to create a fluffier feel, and that's exactly what it does here.
Why It's Good For Side Sleepers
The Layla Kapok pillow has a very high profile of seven inches, making it the loftiest pillow on this list. In our experience, this massive construction works best for side sleepers, especially those looking to alleviate shoulder pain. But keep in mind that this pillow features an adjustable fill, so feel free to reduce the loft as much as you like.
Additionally, hot sleepers might like to know that its shredded fill enhances breathability, which can prevent it from warming up. But what's really cool about this pillow is the cover fabric! Copper threads are discreetly woven throughout this pillow's stretch-knit cover which can help draw heat away from your sleeping head.
For the full scoop on this sleep accessory, be sure to peruse our Layla Kapok Pillow review.
Price: $109–$129, with a generous 120-night trial period and five-year warranty.
Perfect For: Side sleepers looking for a fluffy, supportive, and extra-lofty pillow.
Best Medium Firm Pillow
Saatva Graphite Memory Foam Pillow
Saatva has brought the luxurious comfort of their mattresses to a line of pillows, including the Saatva Graphite Memory Foam Pillow. It has a unique and somewhat complex construction, with a core of shredded memory foam and latex. The latex creates a medium firmness from the center outward, adding support without taking away from the pillow's plushness. Surrounding the core is an outer pillow of additional memory foam, infused with graphite for extra cooling.
Why It's a Good Medium Firm Pillow
The combination of shredded and solid materials help this pillow stay right in the middle in terms of firmness. Sleepers should experience contouring at the neck while also getting support for their head. Although we're still testing this sleep accessory, we imagine it will be a good fit for back sleepers.
Full review coming soon.
Price: $165–$185, with 45-day free returns and a one-year warranty.
Perfect for: Hot sleepers and back sleepers.
Best Memory Foam Body Pillow
Coop Sleep Goods Original Body Pillow
Finally, we come to the Coop Sleep Goods body pillow, perfect for sleepers looking for full-body support.
We'll be honest — this is an all-time favorite body pillow. It's plush, lofty, and pretty darn big, measuring at a very long 54 inches. If you're in the market for a memory foam pillow that provides pressure relief from head to toe, this is a great way to go. Another big plus for the pillow is that the internal fill is shredded and adjustable, so you can modify it to your heart's content.
Why It's a Good Full-Body Pillow
The pillow happens to be incredibly versatile. You can hold it under your arm, between your legs, under your head, or a combination of the three. We found it comfortable to hold it between the arms and legs when side sleeping, in order to relieve lower back tension.
Oh, and here's a perk you might not have expected: this entire pillow is machine-washable. Of course, it works best if you've got an industrial-sized washing machine, but take comfort in the fact that this big ol' sleep accessory doesn't have to be dry-cleaned.
Check out our full review of the Coop Sleep Goods body pillow for all the fun details.
Price: $80, with a 100-night trial and five-year warranty.
Perfect for: Memory foam fans looking for full-body support.
Best Memory Foam Pillow for Back Sleepers
Casper Foam Pillow
Back sleepers looking for a balanced and breathable all-foam pillow might just fall in love with the Casper Foam Pillow.
It features a three-layer design that combines high- and low-density foams for a soft medium-firm feel. Essentially, the gentle outer layers of foam comfortably cradle the head and neck, while the firm inner layer works as the support system.
Why It's Good For Back Sleepers
The unique construction and lofty 4-inch profile should give back sleepers just the right amount of height, thus helping keep the spine in a neutral position while they snooze. We can also see the pillow being tall and pressure-relieving enough for side sleepers.
Not to mention, it's one of the most breathable foam pillows we've ever tested. Though it doesn't feel cool to the touch, each layer of foam is ventilated with dozens of tiny channels. This promotes a ton of airflow through the pillow and makes for a cooler snooze. Plus, the cover fabric is made from a moisture-wicking blend of spandex and polyester to help you stave off those night sweats.
If you're in the market for a light and breezy back-sleeper pillow, be sure to read our fullCasper Foam Pillow review. And while you're at it, check out our Casper sheets and Casper mattress review too!
Price: $89–$$119, with a 100-night trial period.
Perfect For: Back sleepers looking for a cozy, breathable, and balanced pillow.
Methodology: How to Shop for a Memory Foam Pillow
When you're on the hunt for a new memory foam pillow, it's important to pay close attention to internal fill, cooling properties, loft, and firmness. Below, we'll break down the need-to-know info for each factor.
Internal Fill
The first thing to consider about memory foam pillows is internal fill, which typically comes in three styles — shredded, blended, and solid. Each option offers its own distinct feel and level of support, so let's look at them side by side.
Shredded Memory Foam: Shredded memory foam pillows offer a moldable feel that's characteristic of this material, but are usually less dense and firm than solid memory foam. If you're a memory foam fan who prefers a plush feel, a shredded fill might be the best option for you. Plus, shredded memory foam pillows tend to be more breathable than either blended or solid memory foam pillows.
Blended Memory Foam: Bedding brands will sometimes combine shredded memory foam with other materials to create unique hybrid feels. For example, memory foam can be blended with down alternatives for a fluffier vibe or with shredded latex for a little extra bounce. If you like the idea of memory foam, but don't want to be overwhelmed by its sinkage and contouring, blended memory foam pillows could work well for you!
One Solid Piece: Pillows filled with one solid piece of memory foam offer the most "classic" memory foam feel in that they're extra-moldable with a super-slow response to pressure. Folks who like to sink deeply into their pillow might be most compatible with this type of fill. One slight caveat is that solid memory foam has a tendency to trap body heat, which may deter hot sleepers. But don't worry, there are some special cooling properties that can work to mitigate this problem. Speaking of…
Cooling Properties
Unfortunately, memory foam has a reputation for trapping body heat and warming up through the night. And while shredded memory foam can improve breathability, that isn't always enough for those who run extra hot. Luckily, many brands now employ special cooling properties to assuage this overheating, such as the ones below.
Cooling Gel Pads: Cooling gel pads are usually placed directly beneath a pillow's cover fabric, essentially acting as a buffer between you and the memory foam. They make the pillow feel cool to the touch, and are often removable for folks looking to experiment with temperature.
Phase Change Material: Phase Change Material is an advanced cooling textile crafted to make fabric feel incredibly cool to the touch. Of all the options we're looking at here, this one offers the most drastically cooling feel. It can be woven into a pillow's cover fabric or infused into the memory foam itself. Sleepers who run very hot might be best suited to this super-cooling material.
Copper & Graphite Infusions: If you don't want to sleep on a pillow that feels cool to the touch (but want to make sure it's not trapping heat, either), look for copper and/or graphite infusions. Copper and graphite can be infused within the cover fabric or internal fill, and can prevent your pillow from absorbing body heat. Just remember that these materials are meant to dissipate heat rather than feel cool on the skin.
More: Check out my list of the best cooling mattress toppers!
Loft & Firmness
Finally, one must always consider loft and firmness. The loft (height) and firmness of a pillow say a lot about its overall feel and support, and each sleeping position requires something different. Memory foam tends to offer a firmer, denser feel as compared to other materials (like down or latex, for example), which can be ideal for some sleeping positions… and not so great for others. So allow us to offer some pointers to sleepers of all styles.
The best pillow for side sleepers is high lofted with a firmer feel in order to maintain healthy posture, which makes memory foam a great pick. Just make sure that the pillow's firmness rating falls within the medium firm range, and has a loft of at least four inches. And remember, a solid piece of memory foam typically offers a firmer feel than shredded pieces.
Back sleepers are usually most compatible with a medium level of loft and firmness, making them particularly well-suited to shredded memory foam. Shredded memory foam pillows usually fall within the soft-medium firmness range, and are often adjustable as well. If you're still experimenting with loft and firmness, we suggest picking a memory foam pillow with a shredded, adjustable fill.
Stomach sleepers need a pillow that is soft and low-lofted in order to maintain healthy posture, which can make finding the perfect memory foam pillow a little tricky. Fortunately, many bedding brands will make a memory foam pillow with an "extra-soft" firmness rating just for stomach sleepers. But, again, you might want to pick one with an adjustable fill that allows you to reduce the loft if need be.
FAQs
Do memory foam pillows make you hot?
Memory foam does have the tendency to trap body heat, which can cause the sleeper to warm up during the night. However, many memory foam pillows feature special cooling properties to prevent that from happening! For example, cooling gel pads and Phase Change Material can both keep you and your pillow feeling cool and cozy.
Are memory foam pillows good for side sleepers?
Because memory foam pillows are often firmer and denser than other types of pillows, they can be particularly well-suited to side sleepers. That said, folks still experimenting with different sleeping positions might want to pick a memory foam pillow with an adjustable fill in order to personalize its loft and firmness.
Are memory foam pillows machine washable?
More often than not, memory foam pillows are spot-clean only. Even then, getting your memory foam pillow too damp can damage the material, or lead to a build-up of mold and mildew.
Final Thoughts
Well, sleepers, we've reached the end of this guide and you're that much closer to picking the perfect memory foam pillow. And as you carefully weigh your options, be sure to pay close attention to materials, loft, firmness, and cooling properties. Oh, and don't forget to subscribe to our YouTube channel and follow us on Facebook, Twitter, and Instagram! Sweet dreams, everybody.